In 1894, a group of women banded together to honor their history and legacy. These women, all white, established themselves as the United Daughters of the Confederacy (UDC) in Nashville and set to work venerating the history of the Confederacy. UDC established both a national chapter and chapters throughout member states in the south, their messaging coming from the top and disseminating down to the ground.
The UDC saw their primary mission as supporting and encouraging the erection of confederate monuments across the south. In doing so, they hoped to "tell of the glorious fight against the greatest odds a nation ever faced, that their hallowed memory should never die." UDC members created an offshoot of their organization called the Children of the Confederacy, wherein young people were taught a version of the Civil War and Southern Heritage that never existed but, indeed, was a mythos of White Supremacy.
Although commemorating Civil War history became the UDC's biggest cause, it was far from their only one. Indeed, the UDC lobbied and advocated for a specific version of history to be taught in southern classrooms, based in Lyon Gardiner Tyler's Catechism on the History of the Confederate States of America, 1861–1865. Tyler, who was the son of 10th president John Tyler, defended the notion that Northerners only ended slavery because of their climate and that they were far more cruel owners than their southern counterparts who were caring, gentle, and loyal to the people they enslaved. This, for those who might be unfamiliar with the phrase, is the Lost Cause mythology.
UDC defended the Lost Cause so ardently that they knew in order to perpetrate their white history mythos, they'd need to do more than have a group dedicated to teaching young people this story. They'd need to get themselves into the classrooms of every school they could to ensure their side of history was presented. And not only did they need to present their side, they needed to silence the truth.
So naturally, UDC members — women, Moms, even — began to claw their messages into classrooms. Not only did they advocate for a certain brand of history but they fought to remove texts which didn't align with their beliefs. They also wrote their own texts and books, despite having no training in education, child development, writing, or even history, and they got them into classrooms across the south.
Among the first and most influential was The Ku Klux Klan or Invisible Empire by UDC member Laura Martin Rose. This was not a blip in history; the book was used across the state of Mississippi with school children, who were fed a story of the happy enslaved person and the evil northerners who ended their freedom. The UDC codified what they believed to be appropriate material for school children in Measuring Rod to Test Text Books and Reference Books by Mildred Rutherford, published in 1920. It codified the Lost Cause narrative and lent "support" for their side of history. Rutherford was, of course, engaged in the UDC as their historian and earned a legacy as a prominent white supremacist (and yes, the UDC vehemently opposed the idea they were white supremacists).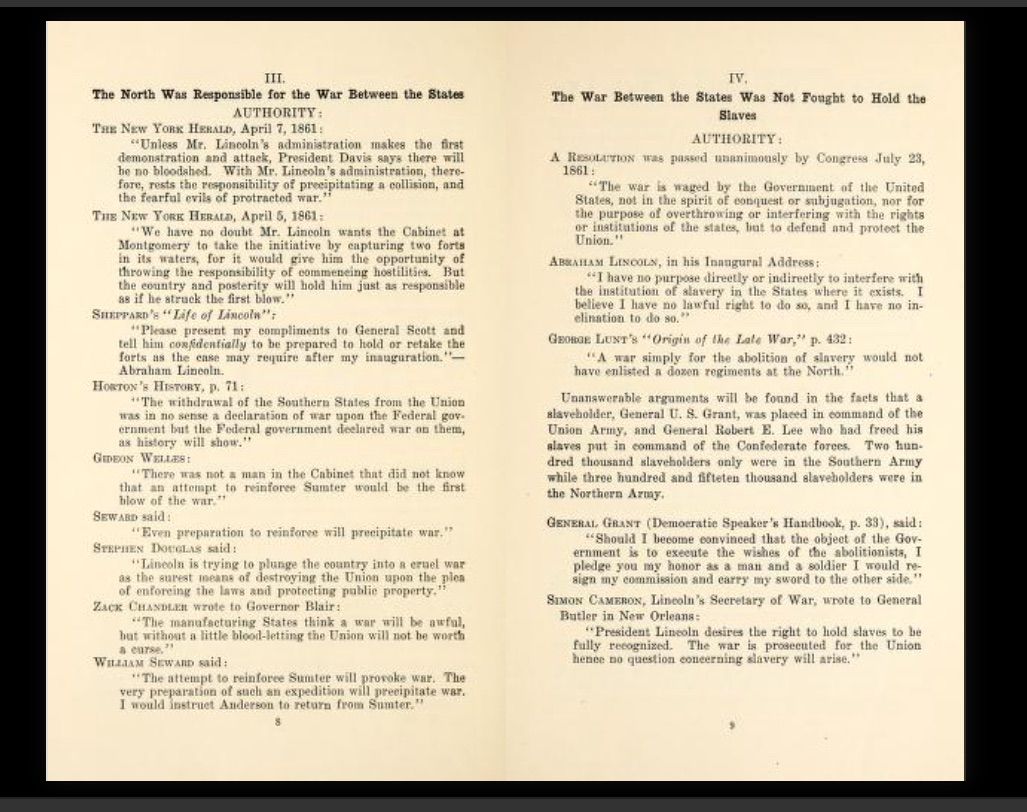 The guide to appropriate texts cherrypicked passages to fit their narrative, including sources such as the mid-1800s New York Herald which had a pro-slavery stance. These passages appear without context to bolster their historical narrative.
Just a year after publishing the 24-page document, Rutherford then produced a longer work titled Truths of History. Further arguments bolstered the Lost Cause within the book, and also included were scads of books deemed inappropriate for students to have access to. Indeed, it was a blacklist of books not to be found in schools, and indeed, the committees within the UDC who had political ties began to lobby their state legislators to ban the books at the state level.
They were successful, too.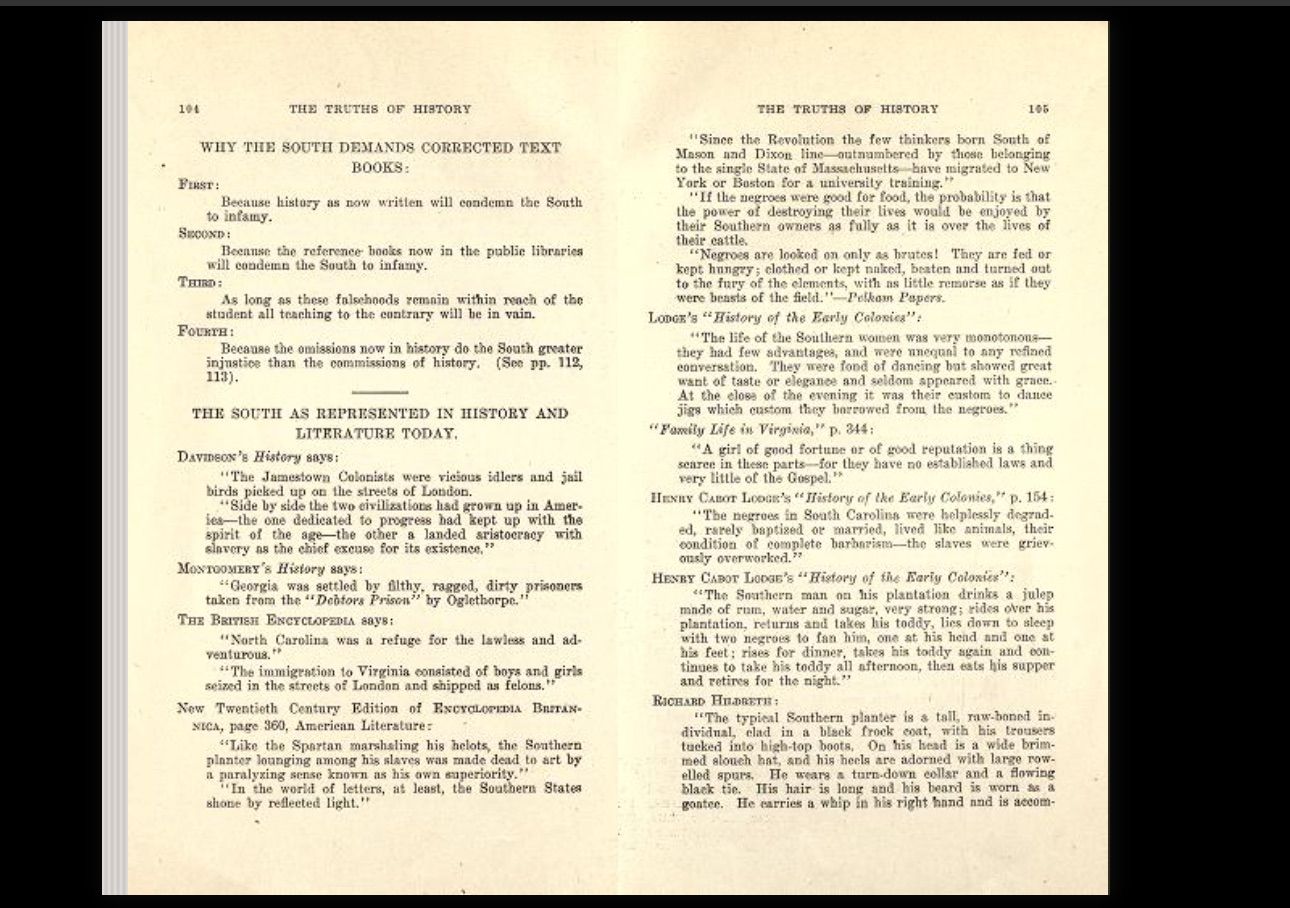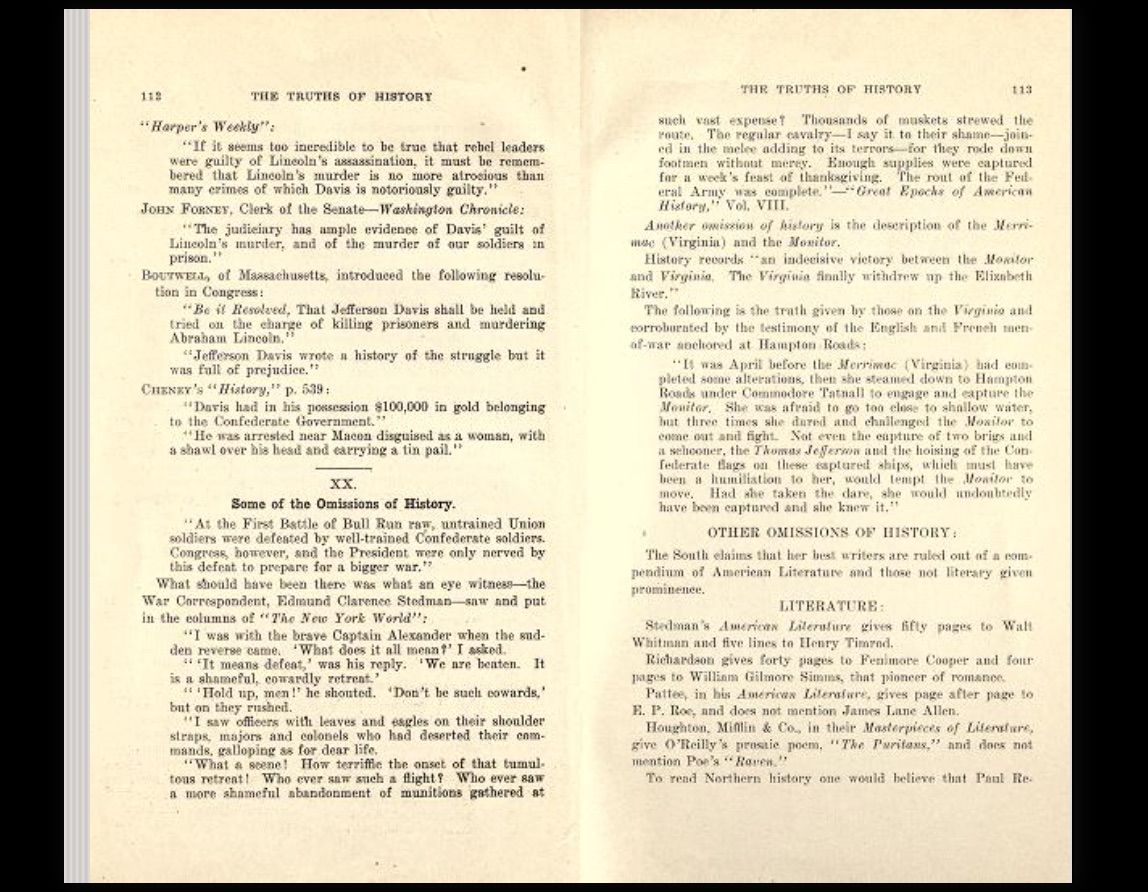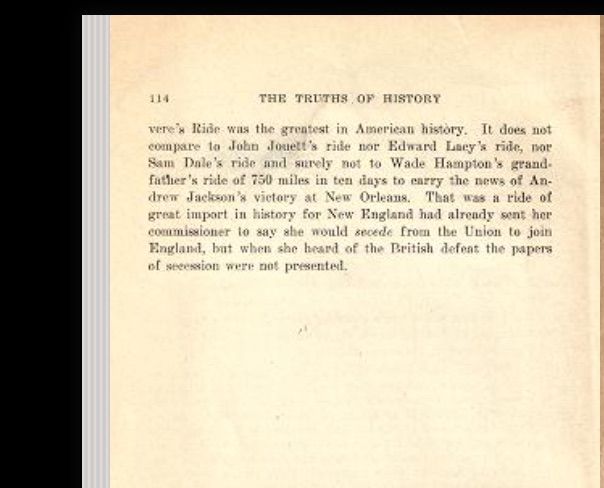 There are still people alive today who learned history in the south based on the recommendations of the United Daughters of the Confederacy. Whose classroom lessons and textbooks perpetuated the lies of the Lost Cause and white supremacy. Those textbooks were used past the Jim Crow era.
The United Daughters of the Confederacy still exist and still operate today. But this is not about them.
Instead, it's about how their playbook is the same playbook by those who insisted on establishing the 1776 commission to spread lies about American history.
It's the playbook used by Moms for Liberty, who decided what is to be allowed in the hands of young people.
Who claim that schools are indoctrinating children — the ones they are raising and the ones in which they want to instill their versions of truth.
These Moms believe themselves authorities. They are purveyors of a brand of white power and supremacy, making their names known as "defenders of liberty" and "parental rights," in the same exact manner as the UDC and the "Lost Cause." They believe they can determine books that are and are not appropriate, and they can write a lengthy blacklist using "evidence" they cherry pick.
The tactics, the language, and the methods are the same…and so, too, is it the same that history repeats itself when history is erased by such groups. Thus why politicians continue to buy into it and pass laws which come directly from the small, but loud and well-connected bigots.
Moms for Liberty are not the only group actively working against First Amendment Rights for all, and stating that so plainly matters. The more we focus exclusively on them as book banners, the bigger their platform and egos grow. It's great advertising for their brand. UDC still exist for a reason — and there will be groups like them and Moms well into the future.
They are but one group of fleas continuing to sprout up, rooting themselves into the skin of American history's whitewashed past. Even if they do not prevail, they have laid so many eggs for others to emerge and continue.
Being aware of the history of these "liberty" minded groups, bent on erasing entire groups and legacies of people with their false narratives, lies, and work to codify christian nationalism and whiteness as law, is crucial in order to keep fighting the good fight.
Book Censorship News: April 28, 2023