Nicola Sturgeon has admitted she could not have imagined "in her worst nightmares" the controversy currently engulfing the SNP.
The former Scottish first minister refused to comment on the £100,000 campervan removed from outside her mother-in-law's home and denied the police investigation was the reason behind her decision to step down.
Speaking to journalists at Holyrood, Ms Sturgeon said: "I understand the view that some people might have, that I knew this was all about to unfold and that's why I walked away.
"Nothing could be further from the truth.
"I could not have anticipated in my worst nightmares what would have unfolded over the past few weeks."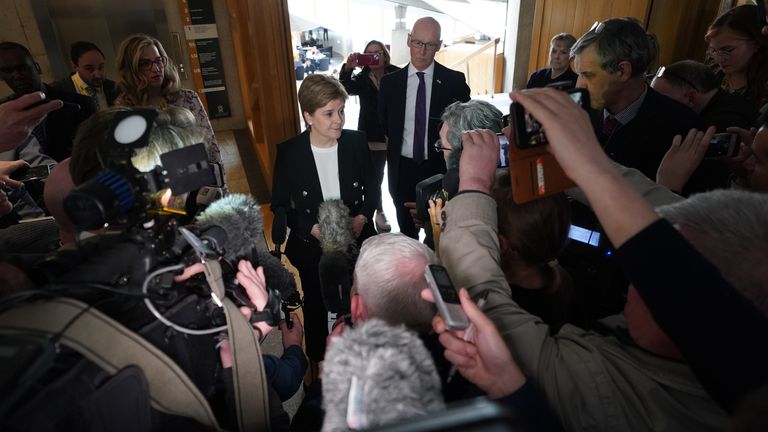 Peter Murrell, Ms Sturgeon's husband and the SNP's former chief executive, was arrested and released without charge earlier this month as part of an investigation into the funding and finances of the party.
MSP Colin Beattie, who quit as party treasurer last week, was also arrested and released without charge in connection with the probe.
The long-running inquiry is linked to the spending of around £600,000 raised by supporters to be earmarked for Scottish independence campaigning.
It is understood there have been complaints the ringfenced cash has been used improperly by being spent elsewhere.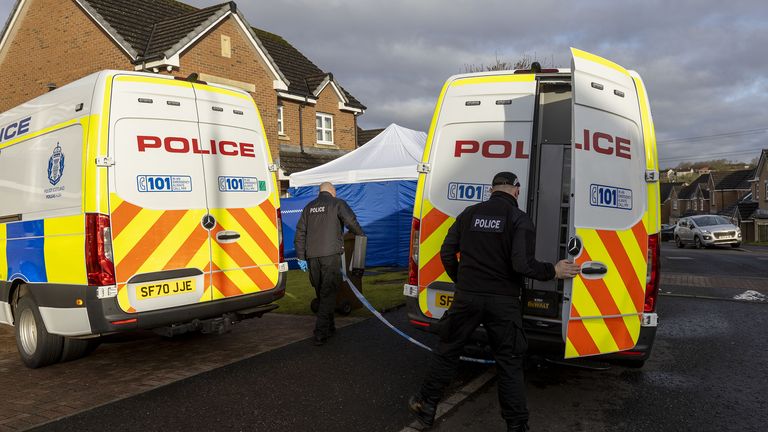 Mr Murrell and Ms Sturgeon's Glasgow home has been searched as part of the investigation. Officers were also seen removing boxes from SNP headquarters in Edinburgh.
The party said it has been "cooperating fully" with the investigation and would "continue to do so".
Read more:
Ex-SNP treasurer 'unaware' party had bought £100,000 motorhome
SNP has 'nothing to hide', says deputy leader
In her first appearance at the Scottish Parliament since her husband's arrest, Ms Sturgeon said she has not been questioned by police in relation to the inquiry and refused to comment on the campervan seized from outside her mother-in-law's Dunfermline home.
She added: "What I will say up front is that I'm not going to go into any detail that impinges on a live police investigation.
"There are many questions that I would want to be able to answer, and in the fullness of time I hope I will answer, but it would be wrong and inappropriate for me to go into any detail of what the police are currently investigating."
She added: "Clearly the events of the last few weeks have been difficult – and I use this word advisedly and deliberately – in some respects very traumatic.
"But I accept that is the nature of the process that is under way right now."
Colin Beattie speaking earlier on Tuesday

Earlier on Tuesday, Mr Beattie said he had no knowledge of the party's purchase of the luxury motorhome.
He said: "No, I didn't know about it."
First minister Humza Yousaf told Sky News the state-of-the-art vehicle was an SNP asset and was part of the warrant list of items seized by police.
The party's auditors quit last year and have yet to be replaced, with the SNP Westminster group at risk of missing out on £1.2m from Westminster authorities, known as short money, if it fails to submit audited accounts by 31 May.
Ms Sturgeon, who had been working from home since her husband's arrest, said "now is not the easiest time".
However, she added: "I believe the SNP, notwithstanding the real difficulties that surrounds the party just now, is in good shape and I think Humza [Yousaf] will take it to an even better place."