The deputy prime minister has said police will "take all necessary steps" to prevent any disruption to the King's coronation by anti-monarchist campaigners.
Activists are planning to disrupt the ceremony by setting off rape alarms and throwing them at horses taking part in the procession, according to a report in The Mail on Sunday.
The newspaper cited concerns from "senior security sources" that disruption could lead to scared horses bolting into crowds along the route. In response, the government has said police will use their "full range of powers" to protect the procession.
Oliver Dowden, who was appointed deputy prime minister on Friday, told Times Radio: "We take [these threats] very seriously.
"I have been meeting with the home secretary, with the culture secretary, who has responsibility for the ceremonials for the coronation, we've been briefed by the police and received intelligence reports in respect of this.
"What I would say is we have experience of dealing with these situations, it's a relatively similar situation to what happened with the platinum jubilee, and indeed with Queen Elizabeth's funeral.
Read more:
Royal Family 'potential sitting ducks' for protesters during procession
Anti-monarchy group to stage protest along Charles' coronation route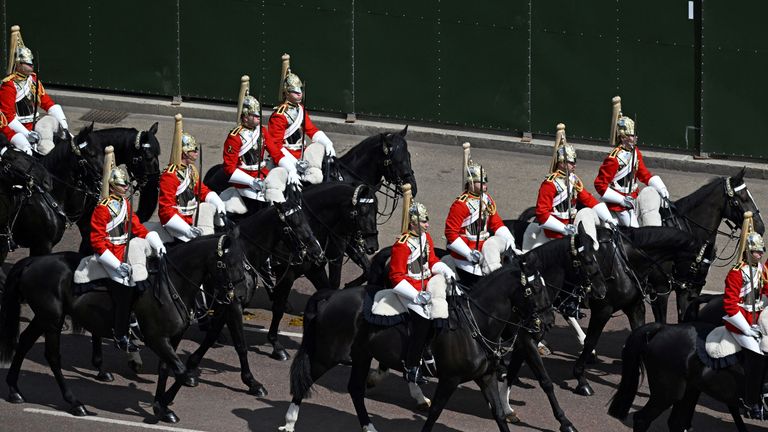 "So, we will be taking all necessary steps to protect the integrity of the occasion."
Asked if banning orders would be used and searches carried out near the ceremony, Mr Dowden replied: "Clearly the police are operationally independent in this country, but we are working very closely.
"I have met with the relevant commanders in respect of the operation, I know that they're taking this very seriously and that they will use the full range of powers at their disposal to make sure that public order is maintained and that the ceremony is not disrupted."
Commons Speaker Sir Lindsay Hoyle told the Mail on Sunday: "Mindless behaviour of this sort would be utterly and totally unacceptable on any day.
"But it would be reckless beyond belief to seek to sabotage the coronation by scaring the horses, not just for the animals' own welfare but for the safety of the thousands of spectators lining the route.
"I hope the authorities will do all they can to prevent such insanity."
The newspaper said its sources had not specified which group or groups are said to be behind the plan.