In his garden there was, what else, but a 'gaming chair'.
The seat sits outside and unoccupied on the North Dighton property of Jack Teixeira – a nod, perhaps, to the secrets scandal that he perpetrated through a gaming platform online.
It is upholstered aggressively in red and black, a growling accessory in a gaming world that unmutes the unheard.
Does the chair belong to him? Maybe.
And maybe its sports car-style carried an appeal to the airman, who called himself "OG" online – original gangster.
Jack Teixeira liked an audience, that much seems clear. He was prepared to risk everything – his liberty, at least – to get it.
"He was a quiet kid. He had more online friends than real friends," Ben Rapoza told Sky News.
What we know about the leaks
The FBI used billing records from an internet social media app to unmask US airman Jack Teixeira as a suspect over the leak of top-secret military documents, court documents showed.
The leak is believed to have started on Discord chat platform, frequently used by people who play online games.
Discord said it was cooperating with the bureau, according to an FBI affidavit unsealed on Friday.
He was arrested on Thursday by heavily armed tactical agents after a week-long investigation into the disclosure of the highly sensitive government records.
The 21-year-old appeared before a federal magistrate judge at a court in Boston on Friday, charged with possessing unclassified documents pertaining to national security and possessing national defence materials.
Defence Secretary Lloyd Austin, in a statement issued after the arrest, said the Pentagon would conduct a review of its "intelligence access, accountability and control procedures" to prevent such a leak from happening again.
President Joe Biden said he has "instructed the Department [of Defence] to make sure that they get to the root of why" the suspect had access to the documents and "to focus extensively on the extent to which it all occurred".
Ben, 18, attended the same high school as Teixeira but didn't know him well. In North Dighton, it's a challenge to find anyone who was familiar with its infamous son.
Until now.
Everyone in this rural Massachusetts town now knows 'Jack Teixeira – the story.'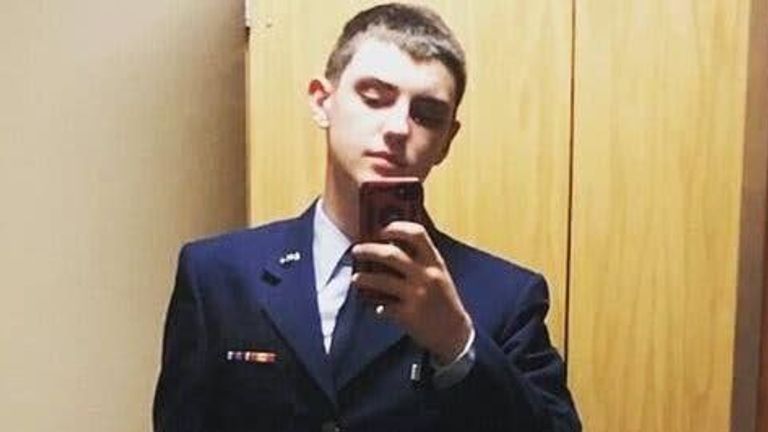 "It definitely puts Dighton on the map," said Ben. "Something like this is a little crazy for Dighton, it's usually quiet, not much usually goes on, it was definitely a shock when I found out about it.
"The fact that he got his hands on that (Pentagon documents) is a little crazy to me, too."
Read more:
A who's who of US intelligence leakers
You don't need powerful algorithms to go viral
The full, crazy story of the airman who blew a hole in US national security will be told, in time.
For now, it seems to shape as a modern digital cliche – a recluse swaggering through cyberspace, high on attention and blind to the black hole ahead.
In small town America, it's an everyday story of the internet – this one has consequences everywhere.