Sir Keir Starmer has been accused of being a "total fraud" and the "wettest Labour leader" on crime by government minister Chris Philp.
Mr Philp, who is responsible for policing, attacked the Labour leader's record on crime, claiming it was "worse" than that of his predecessor Jeremy Corbyn.
In response, Labour said Mr Philp "owes the country an apology" for being part of the government that "crashed the economy".
The sparring comes as the two main parties jostle over law and order ahead of the local elections on 4 May.
The Labour Party has been criticised for a series of adverts attacking Rishi Sunak on the issue after one post suggested the prime minister did not think convicted paedophiles should serve jail time.
Read more:
Boris Johnson's downfall 'not my doing', Rishi Sunak says – politics latest
The party has since released a series of new posts, with the latest attacking Mr Sunak's wife, Akshata Murty, who previously benefitted from non-domicile tax status in the UK.
The ad read: "Do you think it's right to raise taxes for working people when your family benefitted from a tax loophole? Rishi Sunak does."
Mr Philp labelled the controversial adverts "pretty cheeky".
Delivering a speech on Thursday, the policing minister said: "When it comes to crime, Keir Starmer is a total fraud and my view is that he is the wettest Labour leader we've ever seen."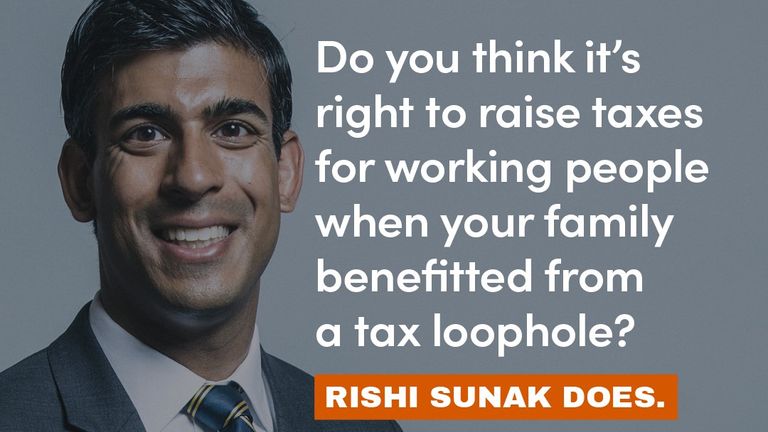 Asked if Sir Keir was worse than Mr Corbyn, Mr Philp said: "When it comes to these crime measures, yes."
Mr Philp claimed Labour had voted "against keeping rapists and child sex offenders in prison for longer" – a reference to the party's decision to oppose the Police, Crime, Sentencing and Courts Bill on the grounds it clamped down on the right to protest and brought in higher sentences for damaging a statue than the minimum sentence for rape.
Mr Sunak sought to diffuse the row over the personalised ads against him on Wednesday, arguing that the public wanted "less talk, more action" from politicians.
"I said at the beginning of this year I was focused on delivering for the British people," he said.
"There were five things I said I wanted to do, which was to halve inflation, grow the economy, reduce debt, cut waiting lists and stop the boats.
"And that's what I'm focused on, day in day out, delivering for people."
The ads continued to be defended by some prominent Labour frontbenchers, including the party's deputy leader Angela Rayner, who denied that the ads went too far.
She told Sky News: "I just think that these are hard-hitting facts about the government's failure on crime.
"And I think it's right that we highlight that."
Read more:
Memorable 'attack ads' and their impact on elections
Starmer makes 'no apologies' for Labour ads attacking Sunak and his wife
In response to Mr Philp's comments, Labour said he "owes the country an apology" for being part of the government that "crashed the economy".
Mr Philp – who was appointed as chief secretary to the Treasury during Liz Truss's short-lived tenure as prime minister – is understood to have been the leading advocate of the controversial move to scrap the 45p tax rate for highest earners, which was later reversed in a dramatic climbdown.
The party also said criminals are "getting away scot-free and over a million victims every year are being let down" under the Conservatives.
A Labour spokesperson said: "The Tories are all bluster. Labour has made it our mission to make Britain's street safe, starting with getting 13,000 more neighbourhood police and PCSOs on the beat – funded through reforming police procurement.
"Labour is the true party of law and order."