Joe Biden has frequently spoken of his Irish roots and his love for the country – but not all of his light-hearted comments have gone down well.
As the US president visits Belfast before he crosses the border, we take a look at some of his controversial jokes and reactions to some of his past comments about Ireland.
Live updates – White House denies Biden is 'anti-British'
'Anyone wearing orange, you're not welcome in'
When Mr Biden was vice-president in 2015, he made a joke when the then-Irish Prime Minister Enda Kenny visited his house in Washington on St Patrick's Day.
"Anyone wearing orange, you're not welcome in… only joking", he said wearing a green tie as they smiled for a picture.
Orange is the colour associated with the Protestant majority in Northern Ireland, while green is used as a symbol by mostly Catholic Irish nationalists.
The joke, at the expense of the Orange Order, which counts Democratic Unionist Party (DUP) MPs among its number, led to criticism from the DUP and backlash on social media.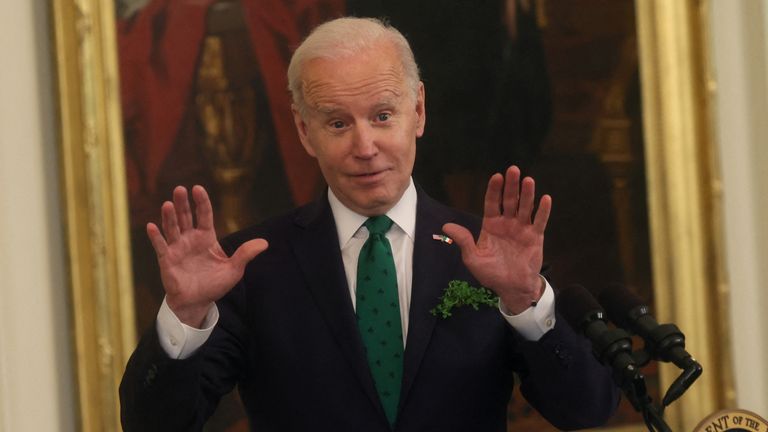 William McCrea, the former DUP representative for South Antrim, said he appreciated that Mr Biden said it was a joke, but called his comments a "slur" and said they were "disgraceful and careless".
The party called for him to apologise. An official from his office said he made it clear that it was a joke.
'I may be Irish but I'm not stupid'
The president opened a St Patrick's Day speech at the White House last year with a joke about his wife Jill, and his Irish heritage.
He said: "Father, before I begin – bless me, Father, for I'm about to sin… I – well, I just want you to know, I may be Irish, but I'm not stupid. I married Dominic Giacoppa's daughter [Jill Biden's grandfather] so, you know, I got a little Italian in me now."
Read more:
How Irish is Joe Biden, really?
Why the US president's visit is significant
Some in the audience did laugh, but the off-the-cuff remark referencing his own roots left some unimpressed including Twitter users who shared their incredulity that he would infer that people from Ireland are "stupid".
The president has repeated this joke on more than one occasion.
'I'm the only Irish who's never had a drink'

He joked his relatives 'weren't really in jail'
More recently, the US leader also joked about his experience meeting distant members of his Irish family.
The 80-year-old told the crowd: "When I went over to Ireland, It was a great experience. I've been to Ireland many times, but not to actually look up – to find my actual family members.
"And there are so many – and they actually weren't in jail."
Biden 'really not Irish' as he has 'never had a drink'
The joke seemed to go down well with the crowd who laughed and a second joke followed. Reminiscing about his stay, he added: "There's still a place called Finnegan's pub… that's related to my family.
"I'm the only Irishman you ever met, though, that's never had a drink, so I'm okay. I'm really not Irish."
The president does not drink alcohol.
He then spoke about his Irish roots from his mother's side of the family – the Finnegans and the Blewitts.