Marvel star Jeremy Renner said he has "no regrets" about his snowplough accident that left him in a serious condition, and that he'd "do it again" to save his nephew.
The 52-year-old actor added he was "so grateful and forever in debt" to those who helped him after his accident, where he was crushed by his own six-tonne snow plough trying to help his nephew from another vehicle, on New Year's Day.
Renner was taken to Reno, Nevada, with significant injuries and more than 30 broken bones.
Speaking to Diane Sawyer on ABC in the US, Renner recalled the event, explaining he was going through physical and mental recovery, saying he was a "dummy" for stepping out of the vehicle while it was still moving.
"It was my mistake, and I paid for it," he said.
He also said he was "awake through every moment" of his pain, adding: "It's exactly like you imagined it would feel… It's hard to imagine what that feels like… It felt like someone took the wind out of you.
"Too many things are going on (in) the body to feel. Pain is everything – it's like if your soul could feel pain."
Talking about his thoughts at the time, he continued: "I said, 'Oh, that (leg), that one's really messed up… that leg's (going to) be a problem.
"(I'm thinking) 'What's my body (going to) look like? Am I just gonna be like a spine and a brain like a science experiment?"
Renner walks in recovery update

He told ABC that he did not want to be "haunted" by what happened, despite being triggered" by the painful memories of the event.
"Yeah, no regrets. I would do it again," he said.
"I refuse to have that be a trauma and it be a negative experience. That is a man I'm proud of because I wouldn't let that happen to my nephew.
"So shift the narrative of being victimised or making a mistake or anything else. I refuse to be f****** haunted by that memory that way."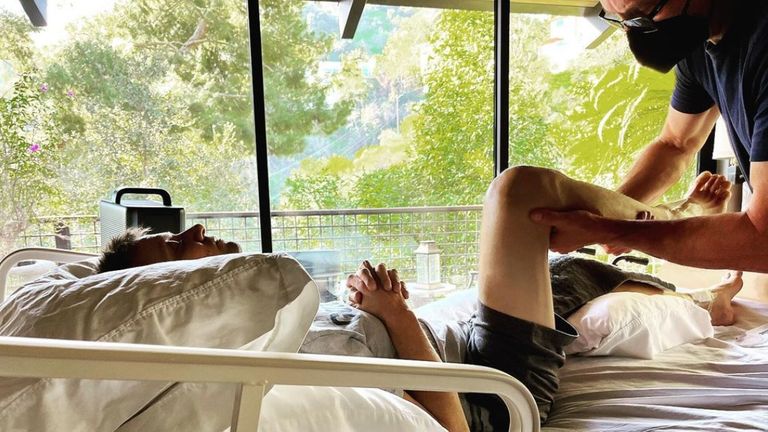 The interview also showed footage of Renner in hospital, as well as parts of the 911 call made after the incident.
He explained that he signed "I'm sorry" to his family because he felt that his own actions had caused "so much pain".
"I did that to them, it's my responsibility you know? I felt bad that my actions had caused so much pain," he said.
"This is what I talk to my family about from all their perspectives, which are horrifying, that I put upon them. What we just endured.
"That's real love. It's suffering, but that feeds the seeds of what love is."
Renner also revealed he wrote down what he thought might be his "last words" to his family while in hospital.
"Don't let me live on tubes on a machine… on drugs and painkillers. Just let me go now," he said.
The actor, who is best known for playing Hawkeye in the Avengers films, has since moved back to his home in Los Angeles.
He spoke to the first people that came to help him – neighbours Rich Kovach and Barb Fletcher.
Ms Fletcher thought she had "lost him for a second" and cradled him while he went a "grey-green colour".
Click to subscribe to Backstage wherever you get your podcasts
Speaking to the pair on the phone, Renner told them: "It took an army to keep this old sucker alive… and I'm so grateful and forever in debt.
"If I was alone, if no one was there, I'd be dead in front of your place."
Renner said he wants to return to public life, but admitted he probably won't be doing any more stunts in the Marvel universe.
"I'm okay with a stunt guy doing it.
"I'm 52… I've done enough.
"I've lost a lot of flesh and bone in this experience, but I've been refuelled and refilled with love and titanium."