Humza Yousaf has won the SNP leadership contest and is set to be named as Scotland's new first minister, replacing Nicola Sturgeon.
The explosive leadership contest was sparked following Ms Sturgeon's shock resignation last month.
Lorna Finn, the SNP's national secretary, stated that the total turnout in the leadership election was 70% with 50,490 of the SNP's 72,169 members casting a ballot.
For first preferences in the single transferrable vote system, Mr Yousaf took 24,336 (48%), Ms Forbes took 20,559 (40%) and Ms Regan took 5,599 (11%) of the vote.
When second preferences were distributed in the second stage, Mr Yousaf took 26,032 (52%) and Ms Forbes took 23,890 (48%).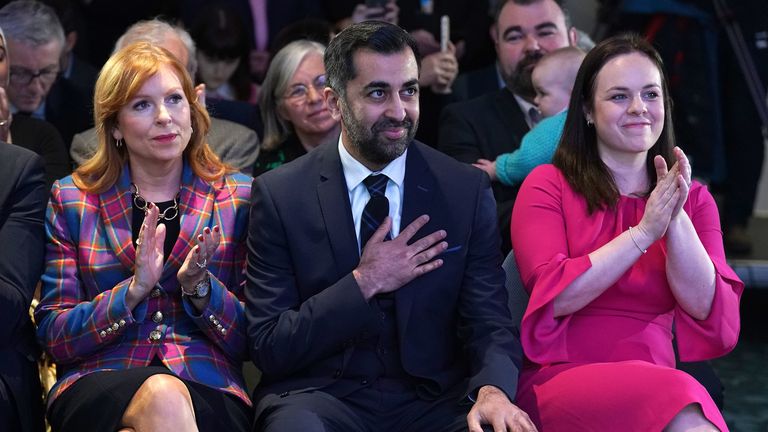 Following his win, Mr Yousaf said: "Leadership elections, by their very nature, can be bruising.
"However, in the SNP we are a family.
"Over the last five weeks we may have been competitors or supporters of different candidates.
"We are no longer team Humza, or team Ash, or team Kate, we are one team.
"We will be the team, we will be the generation, that delivers independence for Scotland."
POLITICS HUB: Follow all the live news here
The winner will now face a vote at Holyrood on Tuesday before being formally confirmed as first minister.
Humza Yousaf: 'I feel like the luckiest man in the world'

Any MSP from any party can also be nominated. Following brief speeches, MSPs will then vote for their preferred candidate.
In the unlikely event of the Scottish Parliament not being able to elect a first minister within 28 days, an election will be held.
After Ms Sturgeon announced her intention to step down, Health Secretary Humza Yousaf, Finance Secretary Kate Forbes and former community safety minister Ash Regan entered the race for the top job.
Nicola Sturgeon urged her successors to work together as a team and act with kindness

The leadership contest featured rows over religious beliefs, arguments about the recollection of past events, and widespread criticism of secrecy surrounding the vote.
The contest also led to a number of other resignations, including that of Ms Sturgeon's husband Peter Murrell as SNP chief executive.
Read more:
Five key challenges Scotland's new first minister will face
Sturgeon and Murrell: The downfall of SNP power couple in less than 150 days
SNP has lost around 30,000 party members since 2021
Sturgeon, SNP's 'cesspit of vipers' and a failed dream
Sky's Beth Rigby was joined by Nicola Sturgeon earlier this month

The new first minister will face a number of difficult challenges as they take office.
Key priorities will include defining a clear plan for independence, how to progress with the controversial gender recognition reforms, tackling the country's drug-deaths shame, alleviating the cost of living crisis, and turning the NHS around.
Mr Yousaf said: "I feel like the luckiest man in the world to be standing here as leader of the SNP. A party I joined almost 20 years and that I love so dearly."
Mr Yousaf said if elected as first minister, he will be a leader for "all of Scotland".
He added: "I will work every minute of every day to earn and re-earn your respect and your trust.
"I will do that by treating you, the people of Scotland, with respect.
"There will be no empty promises or easy soundbites when the issues in front of us are difficult and complex.
"Because government is not easy and I won't pretend that it is."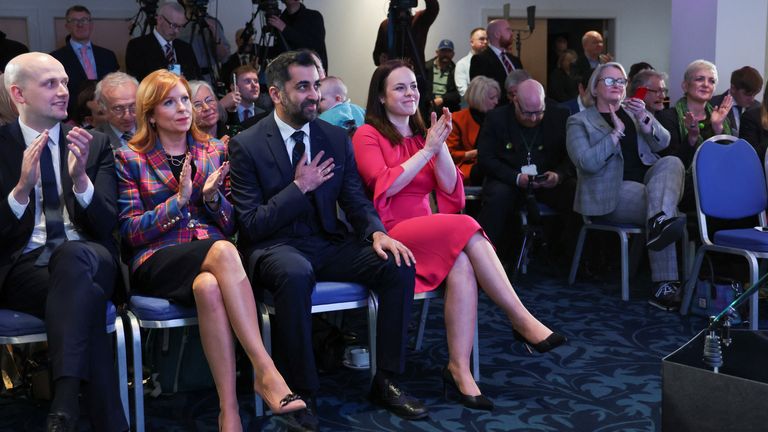 Following her defeat, Ms Forbes congratulated her colleague.
She said: "I've been proud to share a platform with both him and Ash over the last five weeks, and I know we will continue to work together, to make the lives of all of Scotland's people better on the next stage of our journey to independence.
"Whatever the robust disagreements or frank exchanges of the last few weeks, I am confident we will unite behind Humza as our new party leader in the shared and common objective of independence.
"Uniformity is not unity – we can debate and disagree well, and then work together. To end poverty. To speak up for the marginalised. To create better jobs. To serve our people.
"I wish Humza well as he does just that."
Ms Sturgeon paid tribute to the three candidates.
She added: "Most of all I congratulate Humza Yousaf and wish him every success.
"He will be an outstanding leader and first minister and I could not be prouder to have him succeed me."