Rishi Sunak has said his government was "giving it everything" to strike a deal over the Northern Ireland Protocol.
"There's unfinished business on Brexit and I want to get the job done," the prime minister told The Sunday Times, adding that it was vital to ensure a return to power-sharing.
He said he would try to resolve the concerns of the Democratic Unionist Party (DUP), which is worried about the European Union retaining influence over Northern Ireland.
The DUP is refusing to take part in Stormont's cross-community devolved government alongside Sinn Fein in protest at the impact the Brexit treaty is having on trade between Northern Ireland and Great Britain.
The party has issued seven tests that Mr Sunak's pact will have to meet in order to win its backing, including addressing what it calls the "democratic deficit" of Northern Ireland being subject to EU rules while not having a say on them.
Mr Sunak pledged that "anything that we do will tick all of those boxes" in terms of Unionist concerns.
Momentum has been building through weeks of fraught talks and a deal to ease checks on trade introduced under the Northern Ireland Protocol is expected within days.
Conservative MPs have been told they must be in Westminster on Monday, suggesting an agreement could be imminent.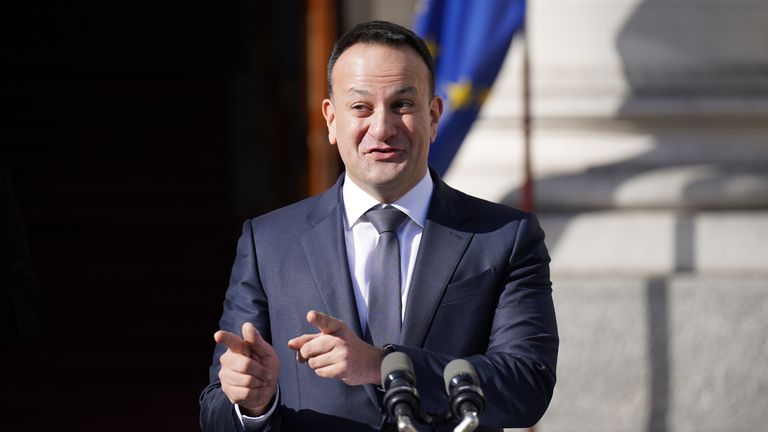 Ireland's response
Mr Sunak's Irish counterpart, Leo Varadkar, said that they were "inching towards a conclusion" on the deal.
"I think the talks on reforming the protocol are inching towards a conclusion," the Irish prime minister said.
"Certainly the deal isn't done yet, but I do think we are inching towards a conclusion.
"There is the possibility of agreement in the next few days but by no means guaranteed… There's still a gap to be closed," Mr Varadkar said, adding there is ongoing engagement between the UK government and European Commission.
Mr Varadkar, who played a key role when the protocol was agreed in 2019, encouraged politicians in London, Brussels and Northern Ireland "to go the extra mile" to reach an agreement, saying the benefits would be "huge".
An agreement would bring an end to a two-year standoff between the UK and EU, but Mr Sunak could face a battle with pro-Brexit Tories and Unionist Northern Ireland politicians to make the deal work.
King Charles was due to meet EU leader
It comes after Sky News' deputy political editor Sam Coates revealed King Charles had been lined up by Number 10 to meet European Commission President Ursula von der Leyen on Saturday as negotiations over the protocol were poised to come to a head.
The King had been due to play a major role in the final part of the negotiations – though there was no suggestion he would have taken part in the talks.
The move could have been interpreted as the King giving his blessing to the negotiations or even endorsing the deal if it had been concluded this morning, however it was cancelled on Friday.
There were also talks about calling the potential deal the "Windsor Agreement".
Read more: What is the Northern Ireland Protocol and why does it matter?
PM 'naive' to involve the King

PM 'naive' to 'drag King into hugely controversial political issue'
DUP MP Sammy Wilson said any Windsor rendezvous with the EU leader would have been "a cynical use" of the King's position and would have been seen in Unionist circles as the sovereign endorsing the deal.
He branded Mr Sunak "naive" and accused him of "dragging the King into a hugely controversial political issue".
"The only conclusion we can come to is he [Mr Sunak] knows that in these negotiations he hasn't achieved the objectives he set out for himself and his own party," Mr Wilson told Sky News.
"Nor has he achieved the promises that he had made to ourselves and was now trying to get the King to pull the thing over the line for him."