Sir Keir Starmer said the path to a Labour victory "must run through Scotland" as he urged SNP voters to put their faith in his party in the wake of Nicola Sturgeon's resignation.
Delivering a keynote speech at the Scottish Labour conference in Edinburgh, the Opposition leader also ruled out a deal with whoever succeeds the outgoing first minister in order to win a majority at the next general election.
"I want to be prime minister for the UK, not just prime minister of the UK and that's why I've always said the path to a Labour victory must run through Scotland," he told members.
Scotland was considered a Labour stronghold before the rise of the SNP and Labour is seeking to bolster its support north of the border in the wake of Ms Sturgeon's shock announcement last week.
Addressing those who "have given up on Labour", Sir Keir said that the case for the union "has always rested on the solidarity of working people pushing Britain forward" and said that case "is becoming harder to make" because of issues like the cost of living crisis.
He said his party "must accept that for many Scots they look at Tory Britain and conclude the way out is the way forward".
However, Sir Keir said the SNP are not in a position "to give the Tories any lectures on political responsibility".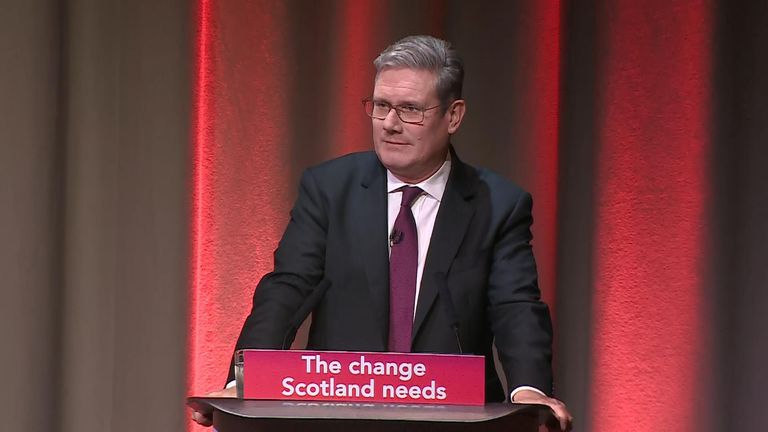 "Over 15 years in power and what do they have to show for it? It's always somebody else's fault. And the reason is simple.
"They're not truly invested in Scotland's success. Anything Scotland achieves within the UK is met with gritted teeth, seen as a roadblock to the one true goal."
'No deal under any circumstances'
Sir Keir said it is for this reason that "whatever happens in the coming months, my message is the same. No deal under any circumstances".
Instead he stressed the importance of the party and its members earning back the trust of the Scottish people following its ill fortunes of the past decade.
Read More:
Nicola Sturgeon's exit is the end of an era – and it has big implications for Holyrood and Westminster
He pledged more devolution to communities, saying "no similar country puts so much decision-making in the hands of so few people".
"That leads to more inequality across our country than anywhere else in Europe – it's no coincidence."
Labour has been positioning itself as a government-in-waiting in recent months as it rides high in UK-wide polls.
Sir Keir's speech is understood to have been hardened in its pitch to SNP voters following the resignation of Ms Sturgeon – Labour's most fierce political opponent in Scotland.
But Diane Abbott, a veteran backbench Labour MP, tweeted: "A mystery why Keir Starmer thinks that Scottish voters are going to vote for his Labour party, a party well to the right of the SNP."
Sir Keir acknowledged his party will not "change any hearts or minds by sitting back and watching a battle for power within the SNP".
He urged party members to "reach out to people who are looking at politics with a fresh pair of eyes uncertain about what the future holds for Scotland".
Click to subscribe to the Sophy Ridge on Sunday podcast
He said: "Let us speak to them with one voice – let's say, we know that Scotland needs change, we know our economy needs to work better for working people, that our public services need to be fixed, that climate change needs bold action, and that our political system needs a total overhaul, with communities finally in the driving seat.
"None of this – we believe – can be achieved through more division.
"But if you place your faith in Labour, this is the change we offer to you."