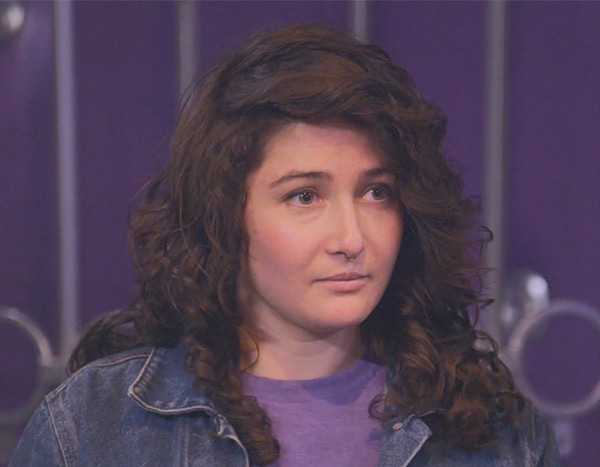 Surprise! 
In this clip from Tuesday's new Dating #No Filter, enthusiastic blind dater Abby dabbles in BDSM for the first time. The problem is, Abby isn't totally sure she's into BDSM. In fact, when her match Jewel reveals their debut date activity—a lesson on "how to give a good old-fashioned spanking," proctored by a professional who informs the pair right away that "one's gonna take it and one's gonna receive it" during the course of their rendezvous—she looks downright terrified.
"Poor Abby, get her outside!" shouts comedian Cara Connors, before co-commentator Nina Parker chimes in. "Abby is like, 'I did not know this is what I was gonna do today when I woke up and put on my little purple t-shirt,'" cracks the Nightly Pop co-host.
And pan back to Abby, who's already admitted she's never really done this before but is moseying on over to the "spank bench" nonetheless, where Jewel (a BDSM fan who's loving this right now) is about to show her how it's done.  
"You will receive 10 on each cheek and you will endure it," she instructs, to which Abby—bent over the apparatus already, t-shirt, denim jacket and all—solemnly says, "OK." They do agree on a safe word though! Per Abby's suggestion, it's "mercy".
"I'm saying 'mercy' for her," Nina interjects, as Jewel counts, "Three, four, five…"
Cara points out that "they haven't even asked each other their favorite color yet," and her partner agrees this is quite the installation of introductory foreplay. "Like, let me at least get an appetizer first!" Nina exclaims.
Think these two make it to dinner? Evaluate the spanks, uh, sparks, for yourself in the full clip above! 
Watch a brand new episode of Dating #NoFilter Tuesday at 11 p.m., only on E!