Todd Chrisley's estranged daughter Lindsie Chrisley is open to reconnecting with her family despite trading accusations of harassment over an alleged sex tape and infidelity, which have widened their rift.
However, she has some conditions that need to be met first.
"Its always been her wish to reconcile on a genuine, loving, human level, not on a superficial business level, or a phony type of affection that has no depth of to it," Lindsie's attorney, Musa Ghanayem, told E! News on Saturday.
"This is not a TV show, she doesn't want to a member of the cast, she wants to be a member of the family," the lawyer added. "If she received a genuine, human, heartfelt invitation to reconnect she would be open to do so, but that has not happened."
In a statement made in response to Lindsie's lawyer's comments, Todd told E! News, "As I've said all along, Lindsie is my daughter and I love her, and that's not going to change."
Lindsie left the family's reality show Chrisley Knows Best in 2017 after a falling out with her dad. On Aug. 13, Todd and his wife Julie Christie, her stepmother, were indicted for tax evasion. They have pleaded not guilty, while Lindsie's attorney has denied reports that claimed Todd's estranged daughter helped provide information that lead to the couple's arrest.
The lawyer had also said, "Lindsie has been a constant target of lies, harassment and threats from her family and as a result, has been distancing herself from the Chrisley family since 2017."
Rick Diamond/Getty Images for Concert For Love And Acceptance
In a July police report filed in Georgia, Lindsie said her stepbrother Chase Chrisley claimed to have purchased a sex tape involving her and that he and Todd "wanted her to lie about an incident and if she refused to do so, they were going to release the sex tape involving her."
Chase and Todd denied the accusations, and their dad then dropped some fresh accusations about his estranged daughter—that she allegedly had extramarital relationships with two former Bachelorette contestants. In 2016, Lindsie filed for divorce from Will Campbell, her husband of four years and the father of their son.
"We have tried to keep Lindsie's extramarital relationships with Robby Hayes and Josh Murray private for her sake since August of 2016," Todd said in a statement to E! News on Thursday. "Sadly, for reasons we can only guess at, she ran to the sheriff's office to accuse her brother of buying a sex tape of her and Robby, which was a complete lie, and now she's telling more lies about me."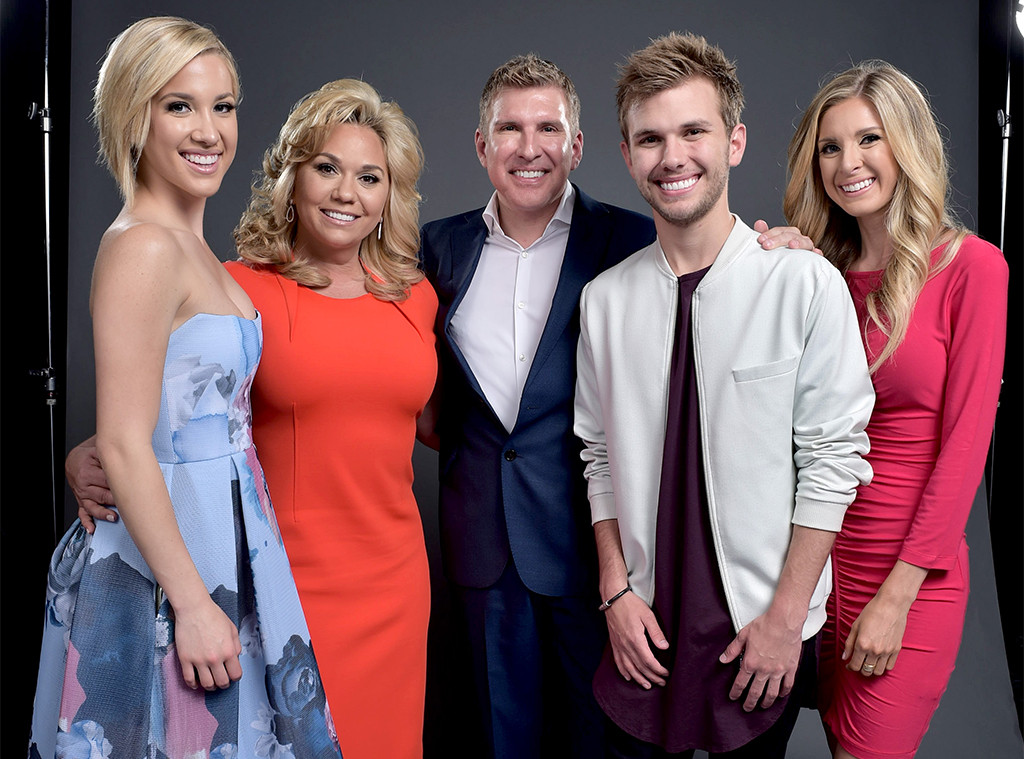 Mike Windle/NBCUniversal via Getty Images
Lindsie's attorney had said in response to her father's accusations, "We are flabbergasted at the audacity of Todd and Chase Chrisley, who are more focused on attacking my client rather than defending themselves against the allegations of criminal conduct. While is it not necessary to detail their repugnant actions, it is important to note that the allegations are of serious crimes against Lindsie."
"Lindsie had made a complaint of their acts to law enforcement and she will provide them whatever they need in the course of their investigation into her family's actions," the lawyer had said. "Lindsie prays for a just outcome so that she can go forward with her life safe from those who are looking to do her harm."
Josh responded to the cheating allegations, saying in a statement to E! News, "Lindsie and I have been friends for years. I know Todd and his family are going through some tough times right now and I pray everything works out in their favor. They should probably focus on how not to be imprisoned for 30 years rather than spreading gossip to try and hurt their daughter. I truly believe they are good people and I wish them the best in however they choose to go about their actions."
Robby has not responded publicly to Todd's remarks.