move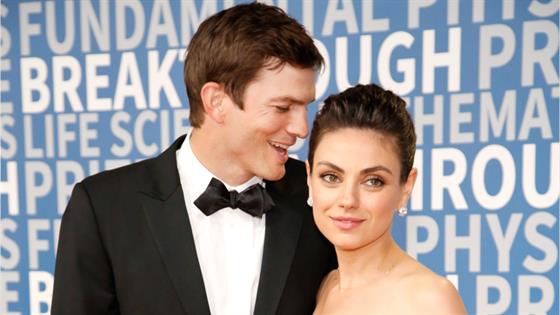 You never forget your first love. Even it was just on TV.
Mila Kunis, who turns 36 today, and Ashton Kutcher, 41, are one of the rare examples of Hollywood co-star couples that never dated when they worked together, but reconnected years later.
The superstar couple met while playing Jackie Burkhart and Michael Kelso on That '70s Show in the late '90s, with a then 14-year-old Mila really having no interest in the 19-year-old former model, who would end up being her first kiss. 
"I think I was her first kiss, like, on the show," Ashton recalled on The Howard Stern Show. "It was really weird. I was like, 'Isn't this illegal?' It was really awkward. She was 14! She was like my little sister."
Mila and Ashton would each go on to date other people, keeping in touch over the years thanks to AOL Instant Messenger, but would find themselves both single in 2012. 
Seven years, two kids and one "absurb" RV honeymoon later, Mila and Ashton are one of Hollywood's most beloved and successful couples, even laughing off recent tabloid rumors about their marriage in the coolest way possible. 
So put on your walking shoes and prepare to fawn a lot as we take a stroll down memory lane and look back on Ashton and Mila's cutest moments over the years…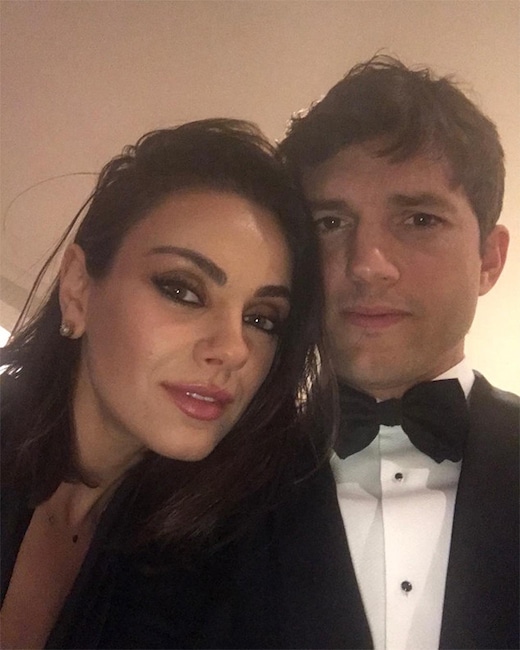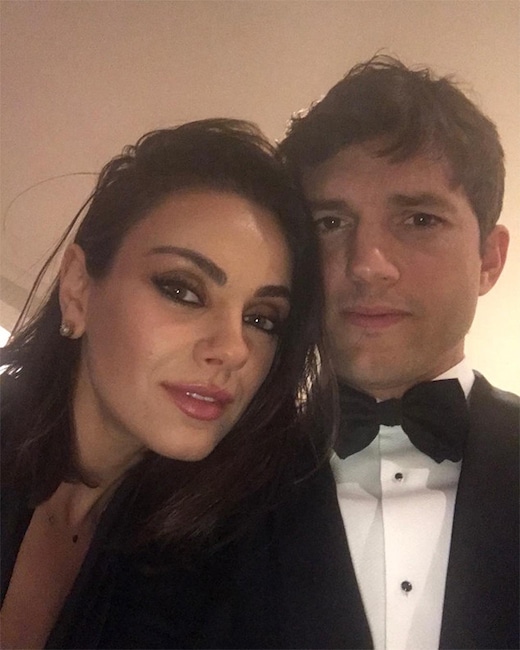 Instagram
They Laugh Off Split Rumors

In June 2019, the couple tackled tabloid speculation that their marriage was over in the most hilarious way possible. 
"I guess it's over… Maybe next week my wife will be having twins. For the third time. But who's counting," Ashton jokingly captioned a video of him and Mila posted to his Instagram account. 
In the video, his wife deadpanned, "I felt suffocated." His response? "I was just so overbearing wasn't I?"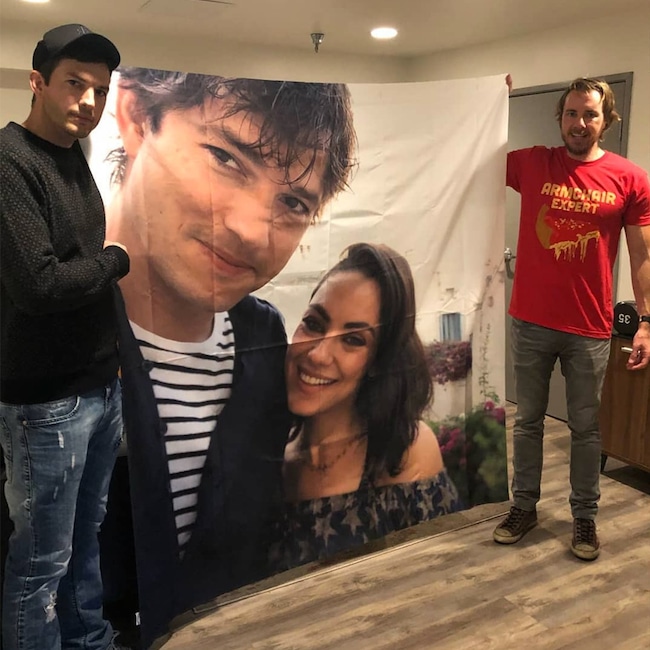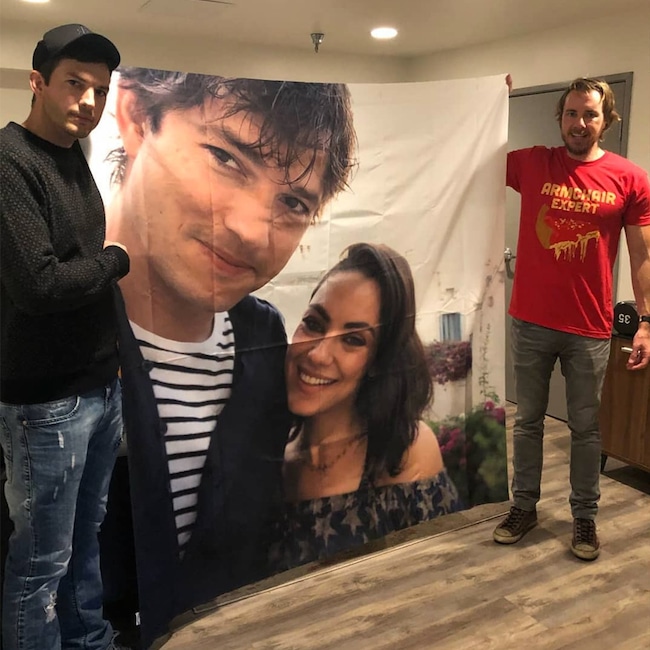 Instagram / Dax Shepard
Friendship Goals

Mila and Ashton have been longtime friends with Kristen Bell and Dax Shepard, which is why they were able to send such a thoughtful Christmas gift for the couple's guest room in 2018.
"What a generous Christmas gift from the Kunis-Kutcher family," Dax, who starred on Punk'd with Ashton, shared on Instagram. "A beautiful shower curtain for the attic(t) bathroom!"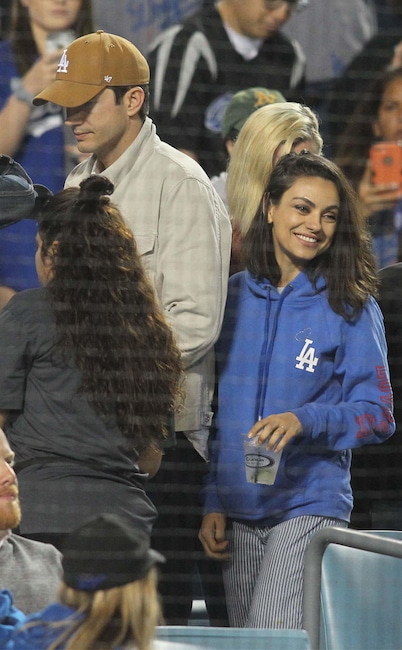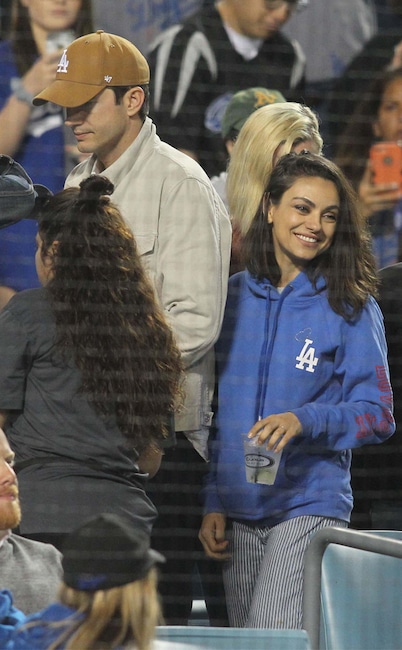 London Ent / Splash News
V-Day Mix-Up

The Punk'd mastermind seemed to get a taste of his own medicine when he tried to get Mila a thoughtful Valentine's Day gift in 2019 when he noticed she and their kids loved watching a robin that had nested eggs in a tree outside their kitchen window. 
"Ashton got me two little lovebirds," said on Ellen. But when they took the new pets to get cleaned, they learned he had not been given lovebirds, but budgies.
"I love my husband so, so, so, so much and it's the thought that counts and it's such a beautiful thought," Mila said.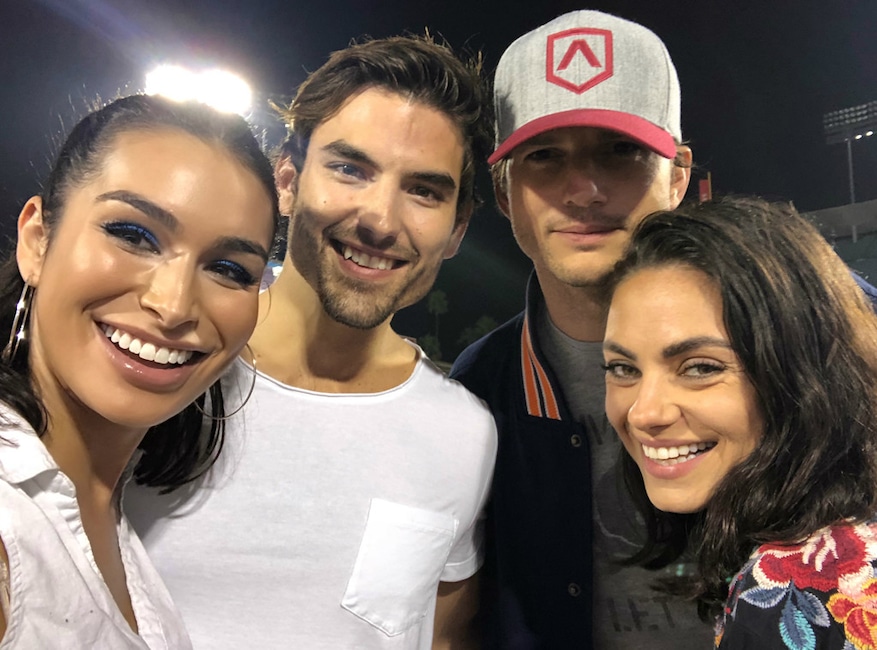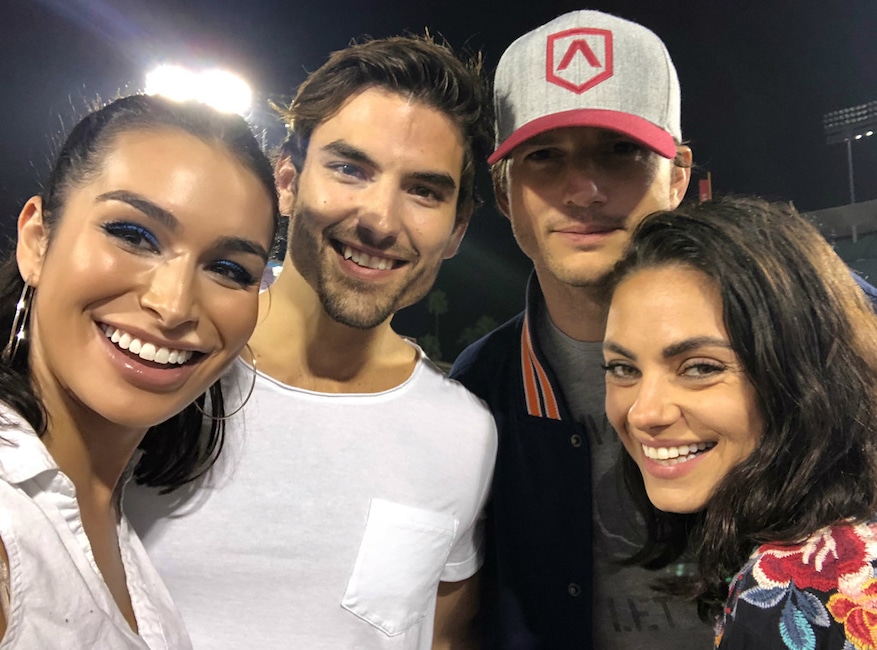 Courtesy of Los Angeles Dodgers
Guilty Pleasure

Mila was outed as a Bachelor super-fan by Ashton in  2015 after he posted a photo of himself standing next to a TV still of Jared Haibon's face, writing "I'm trying to figure out why mila is making me take this picture. @ashleyiaco who are you? And who is this guy?"
And the couple even ended up going on the show in 2017, making a memorable appearance during Rachel Lindsay's season of The Bachelorette. 
In 2018, Ashton finally came face-to-face with his Bachelor doppelganger when he and Mila met Jared and Ashley Iaconetti at a charity event. 
"In 2015, Ashton Kutcher tweeted a side by side photo of our faces," Haibon captioned a couple of the two couples meeting for the first time. "In 2017, he said he got into watching The Bachelor because a guy named Jared looked like him. In 2018, we met and bonded over marrying our best friends."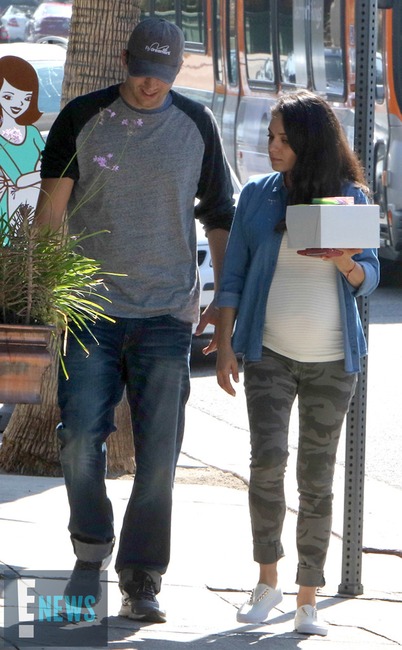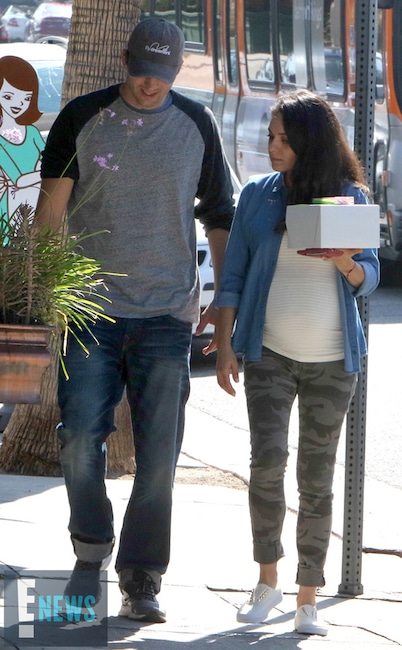 AKM-GSI
A Family of Four

Mila gave birth to the couple's second child, a son named Dimitri, on Nov. 30, 2016. (Ashton accidentally revealed they were having a boy during an interview months earlier.) 
And the Bad Moms star would later gush about Wyatt taking on the big sister role, telling Ellen DeGeneres, "My daughter is very sweet to him. She's actually really nice. There are times where she's like an a-hole but more times than not she's actually really kind and really generous."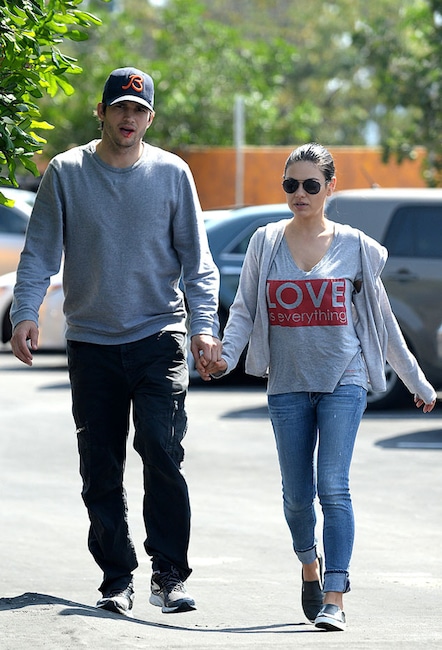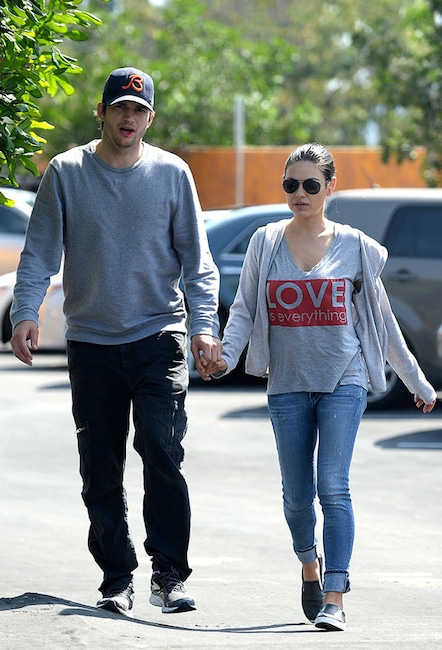 AKM-GSI
Welcome Wyatt!

In October 2014, the couple welcomed their first child, a daughter named Wyatt Isabelle Kutcher. 
And Ashton being Ashton, he decided to have some fun with their baby's announcement anad the first photo of Wyatt, he posted a slew of pics to a guessing game posted to his Aplus.com site.
"Mila and I would like to welcome Wyatt Isabelle Kutcher to the world," he wrote. "May your life be filled with wonder, love, laughter, health, happiness, curiosity, and privacy. Can you guess which one is ours, or does it really matter? All babies are cute."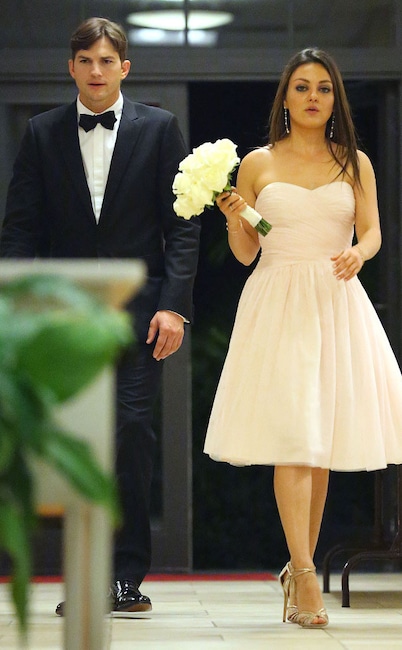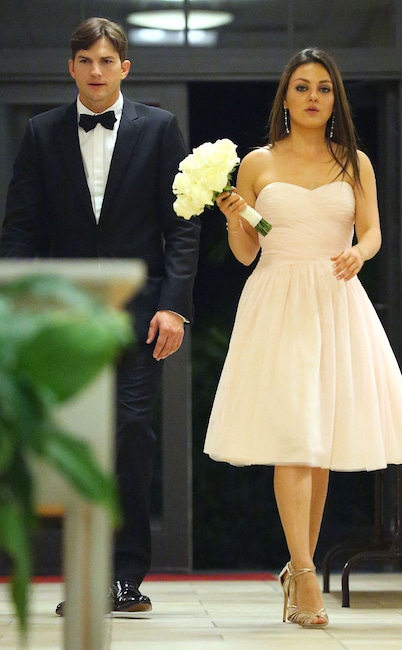 Jackson Lee / Splash News
They're Married!

The couple wed over the Fourth of July weekend in 2015, officially becoming husband and wife in a private ceremony. They exchanged vows at the Secret Garden at Parrish Ranch in Oak Glen, Calif., right at sunset in front of close family and friends, with an insider spilling that the bride wore a "strapless dress with her hair pulled back" and the couple's daughter Wyatt also donned a white dress.
And the newlyweds decided to embark on the most low-key honeymoon ever, taking an RV trip up the California coast with their then-9-month-old Wyatt, with eyewitnesses saying the couple packed on the PDA and were super-friendly to the locals. Mila later recalled the "absurb" honeymoon and all of its misadventures during an interview with Jimmy Fallon, including their air conditioner breaking and how they "almost died" after they were directed onto a fireroad.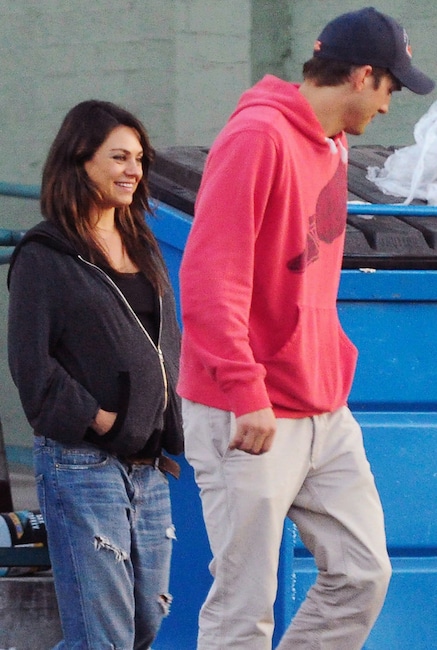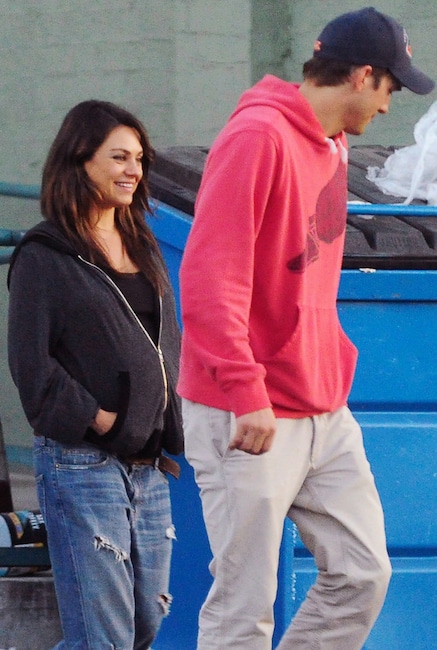 Interstar/NPG.com
Baby On Board

The actress flaunts her adorable growing baby bump as the parents-to-be enjoy a lunch date.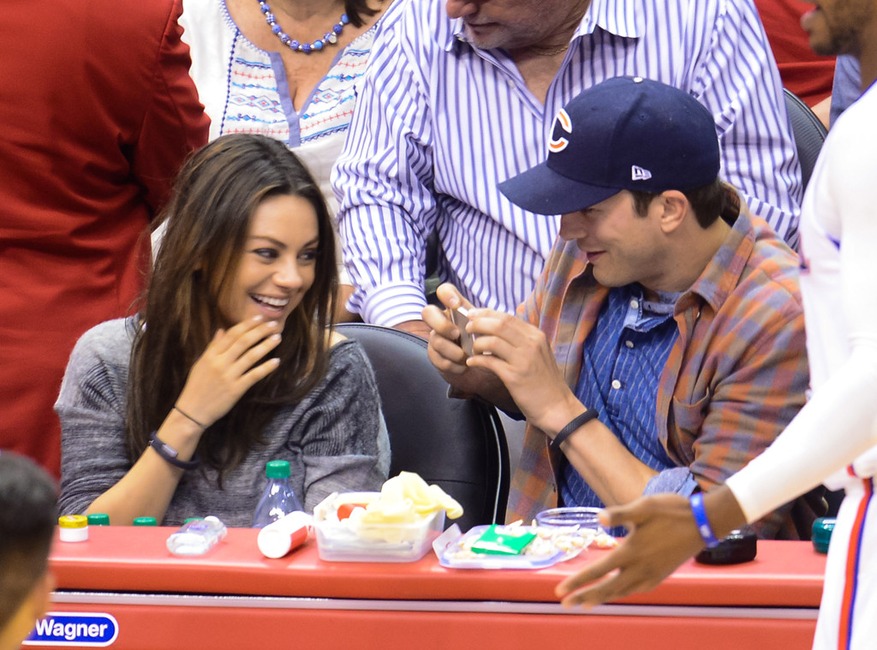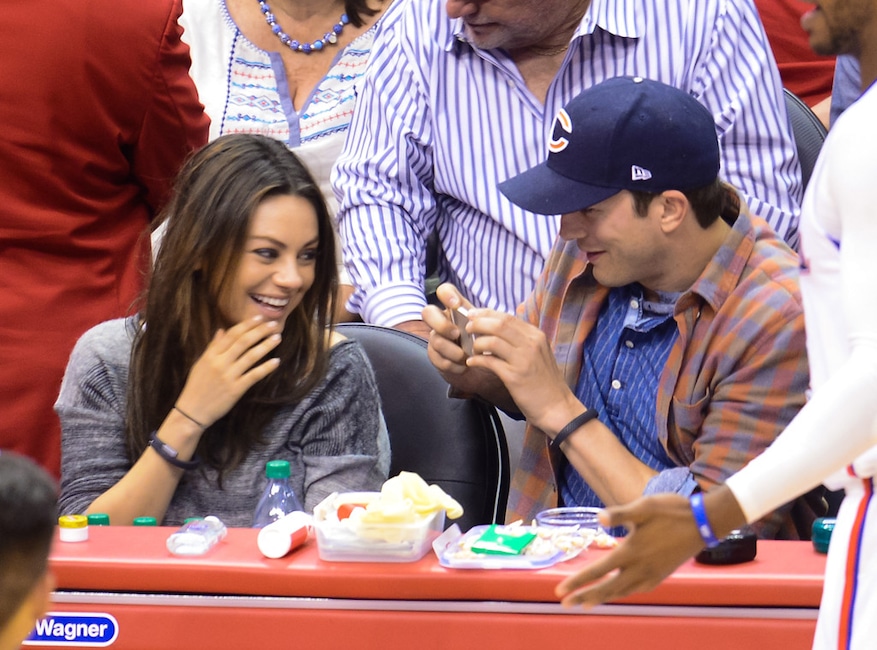 Noel Vasquez/GC Images
They're Pregnant!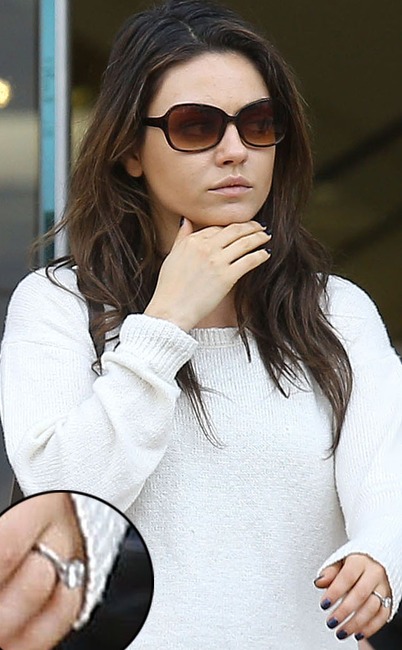 AKM-GSI
They're Engaged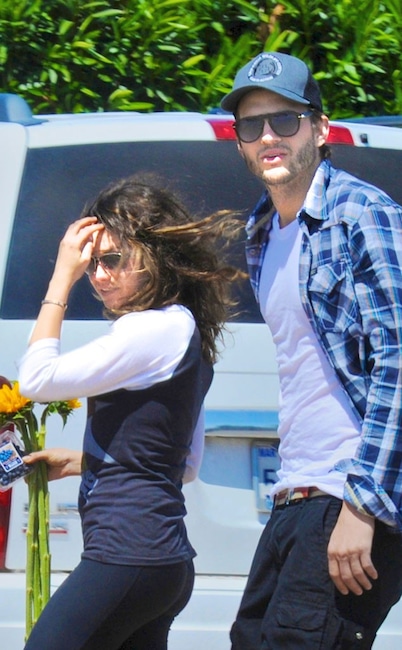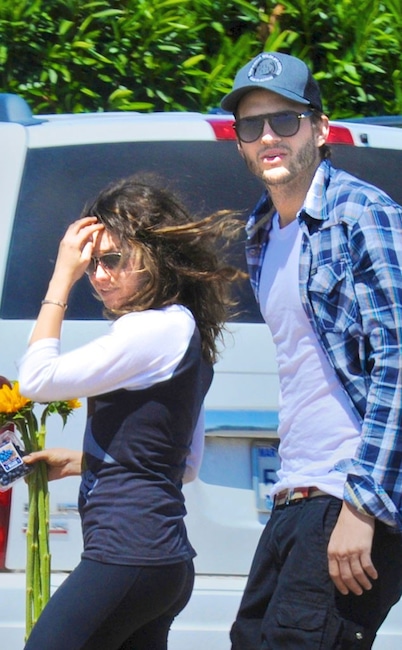 Keola Media/Dean/Bryan/NPG.com
Sunflowers & Sushi

The couple went on a three-day getaway to the coastal town of Carpinteria in Cali. They were spotted grabbing a low key sushi lunch at Sushi Teri. Later on, Kutcher watched his lady buy sunflowers and blueberries at a roadside fruit stand.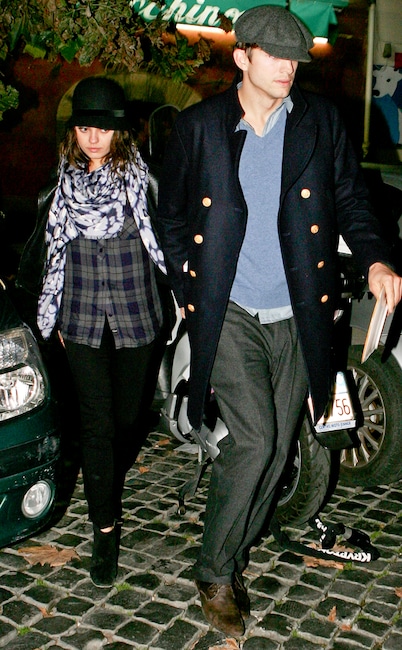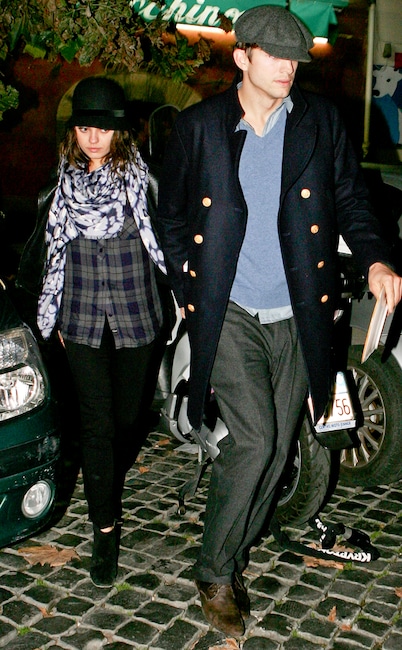 AKM-GSI
Roaming in Rome

The loving couple spent a romantic evening together where they enjoyed a nice meal at Checchino in Trastevere quarter, Rome.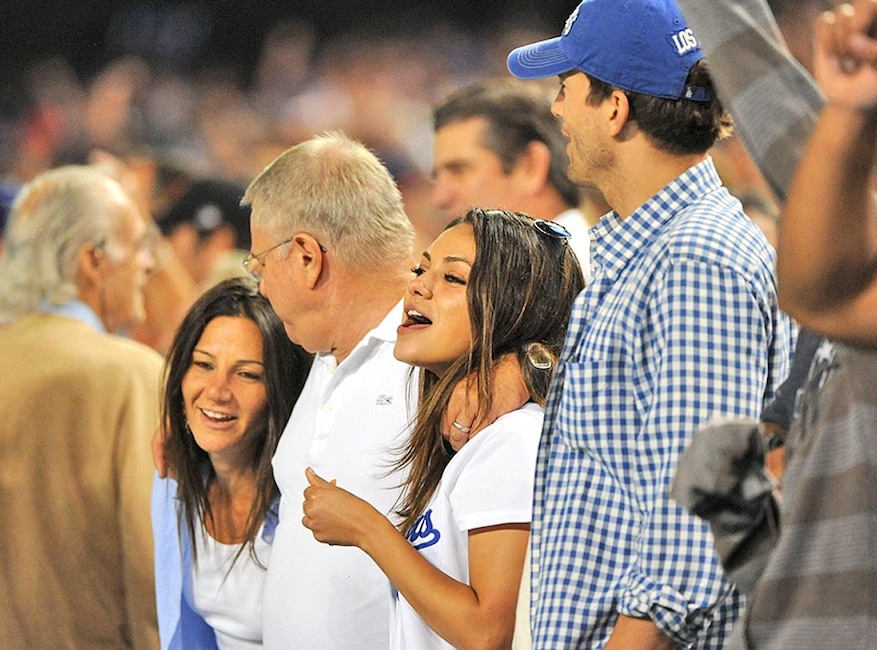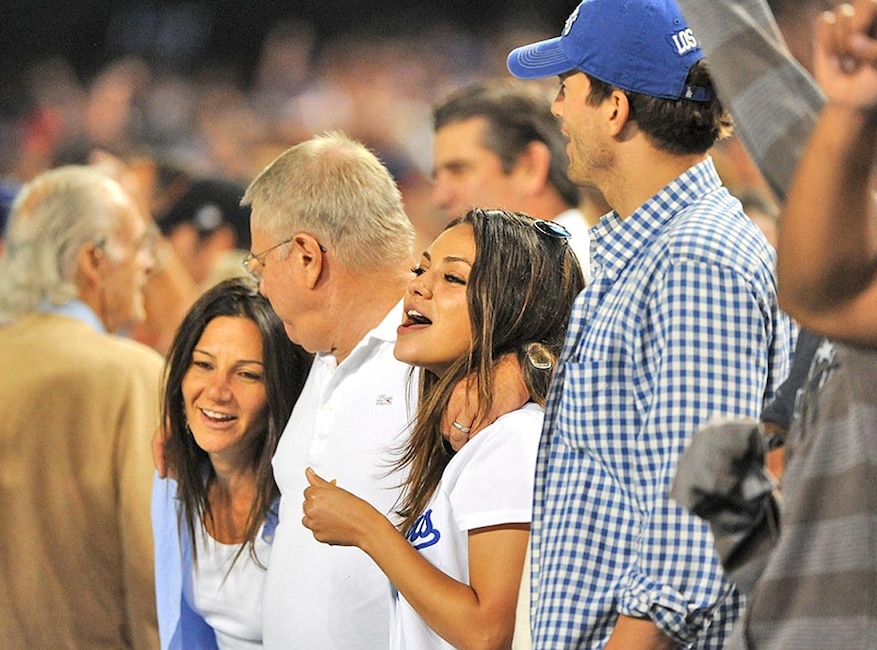 LA DODGERS/JILL WEISLEDER
Family Time

Ashton and Mila went on a double date with her parents at a Dodgers Game.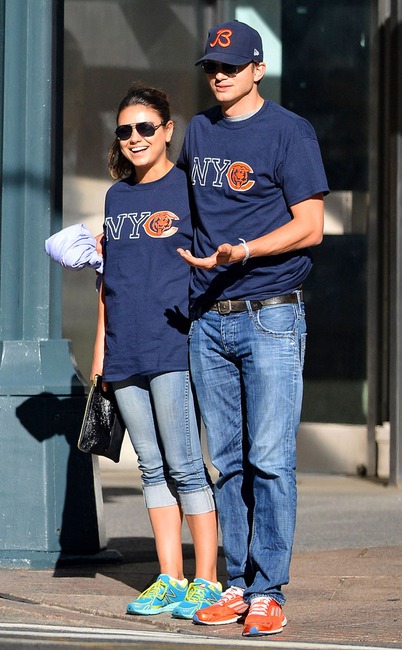 PacificCoastNews.com
Match Mates in New York

The adorable couple wore matching Chicago Bears shirts and could be seen walking arm in arm and smiling.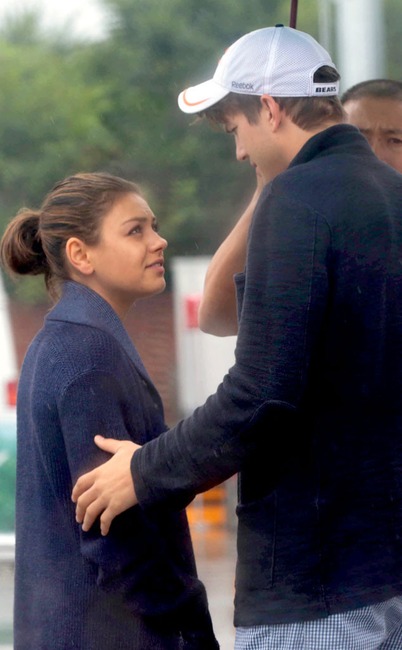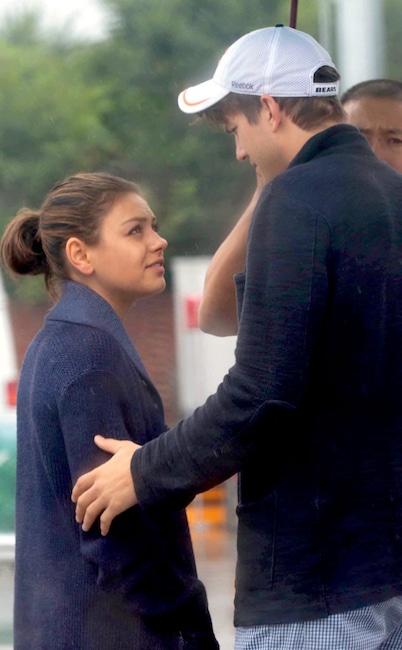 X17online.com
Adventurous Love

The world-traveling duo shared a hug as they waited to climb the Great Wall of China in Beijing.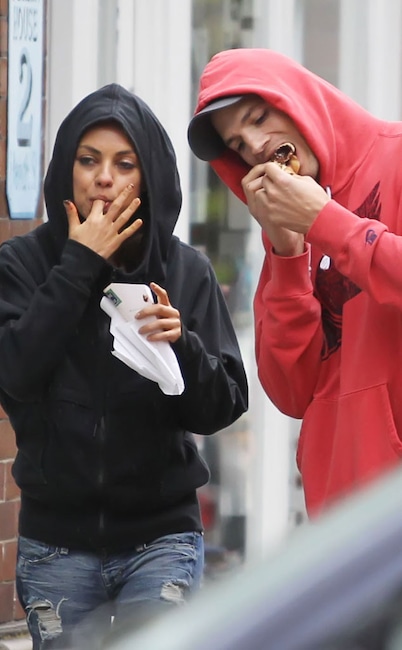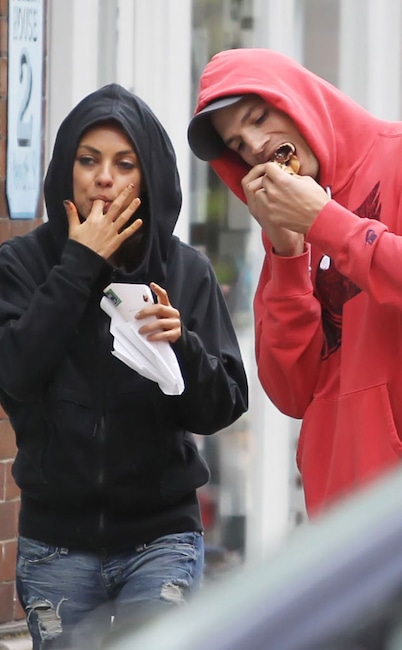 WENN.com
Treats from the Streets

Mila and Ashton brightened up a rainy day in London by purchasing crepes from a local and eating them during their walk home.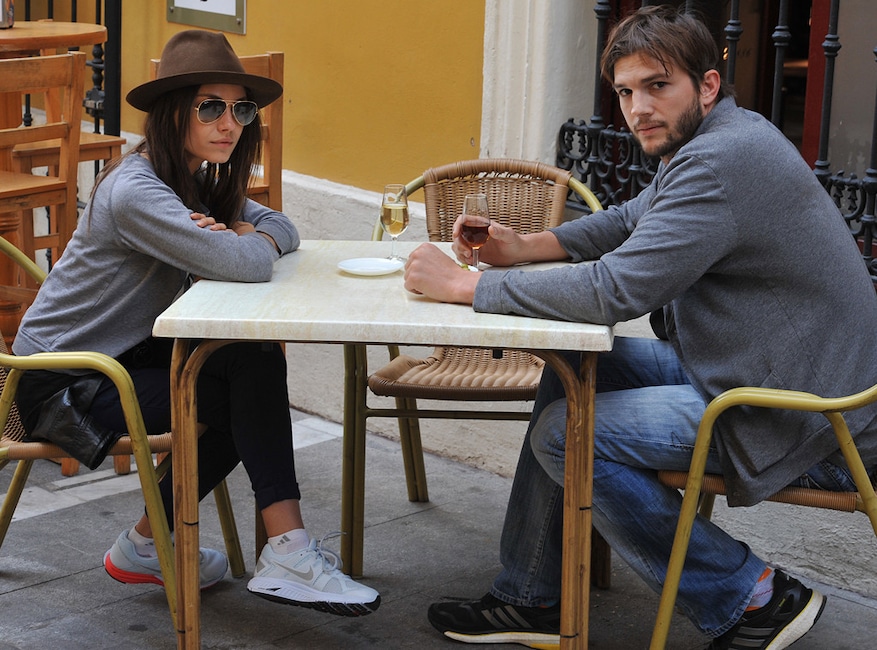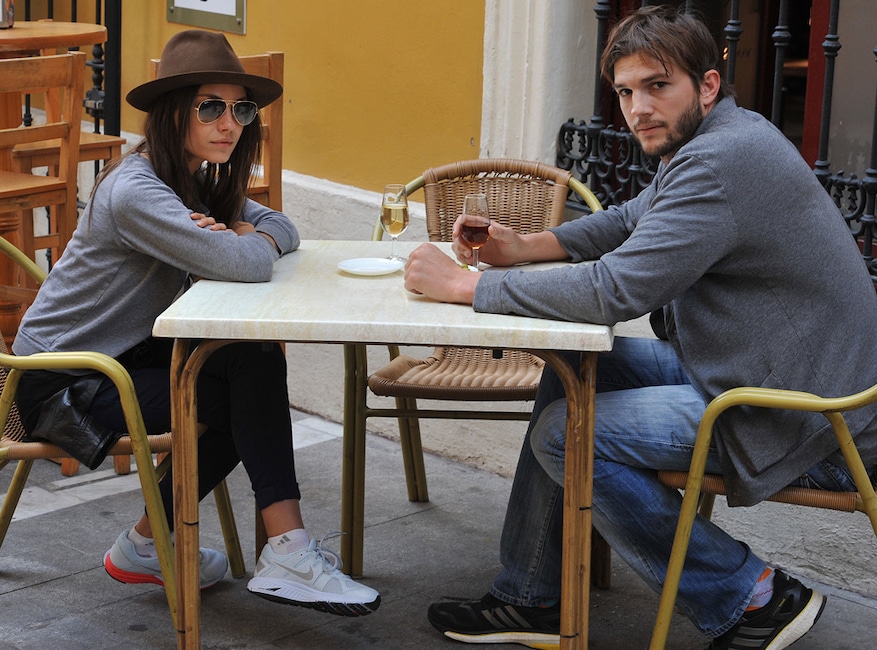 LOTE / Splash News
Cheers

The sporty couple got some grub in Jerez De La Frontera in Spain on holiday for the Moto GP Races.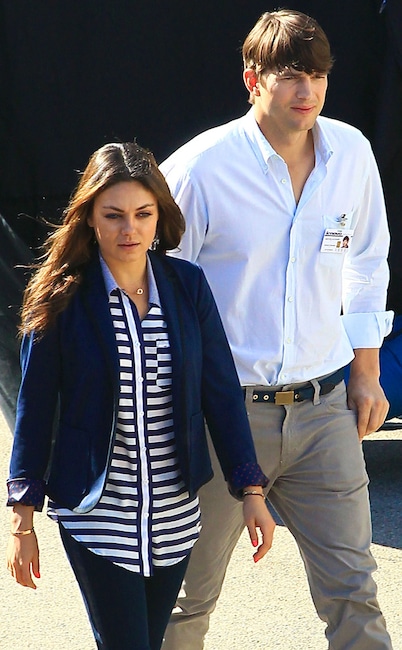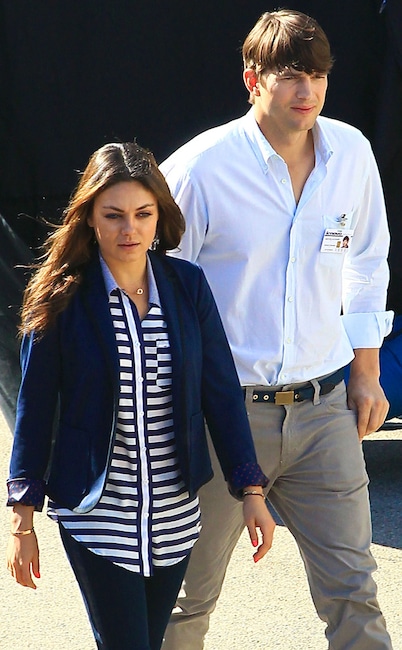 VM/CPR/Dino/FAMEFLYNET PICTURES
His Other Half

Mila visited her boyfriend while he was working on the set of Two and a Half Men in L.A.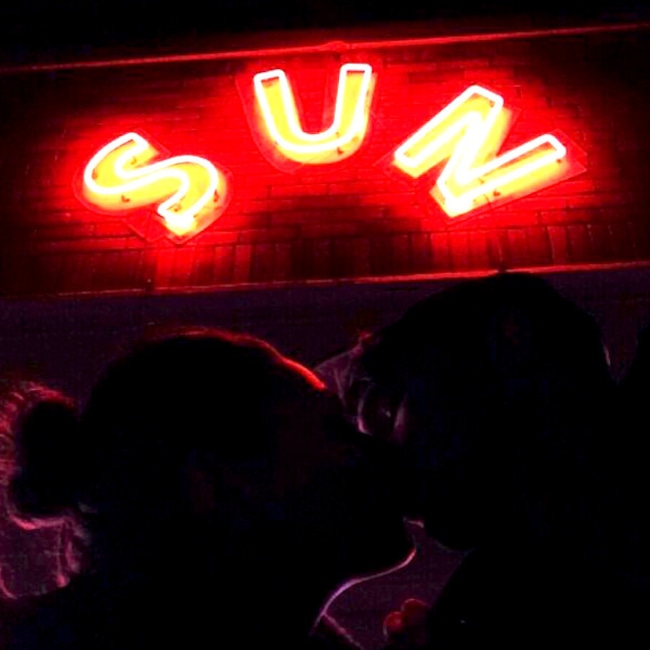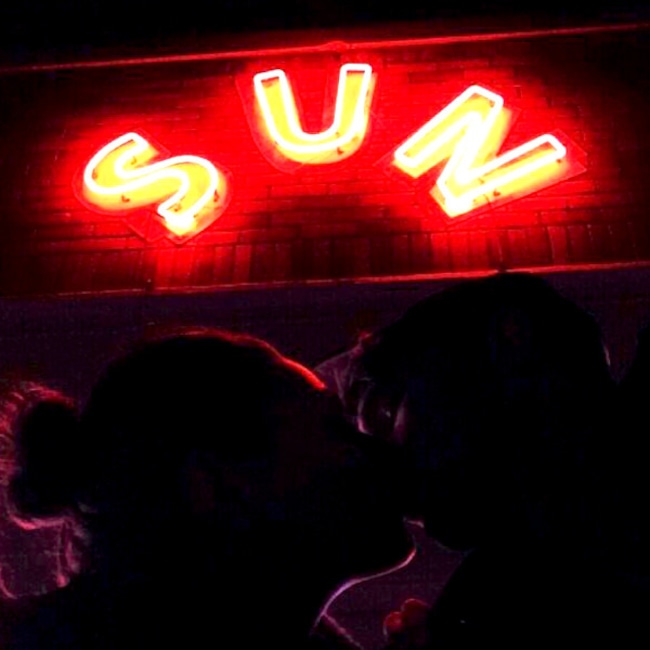 Twitter
Kisses Under the Sun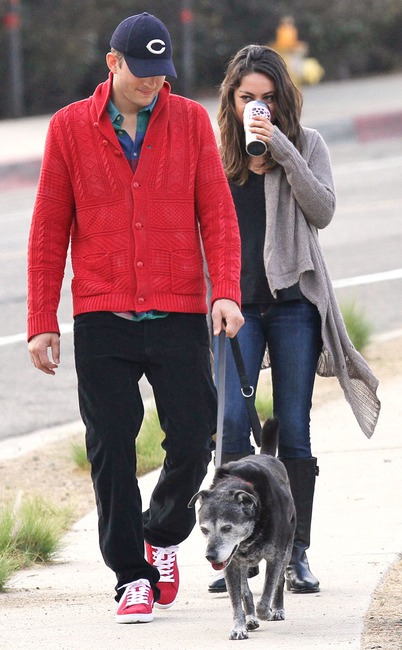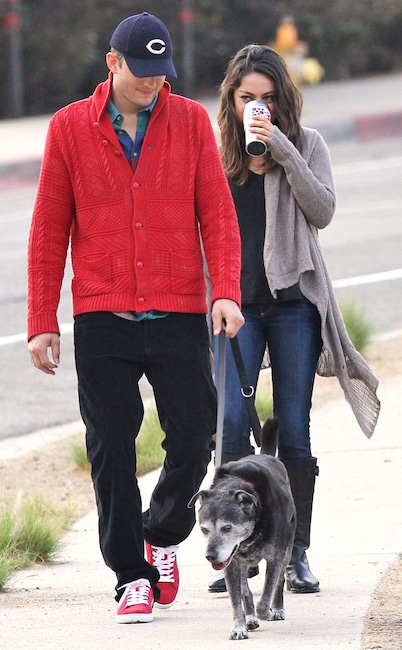 Merino/INFphoto.com
Morning Strolls

The two took their dog for an early morning walk.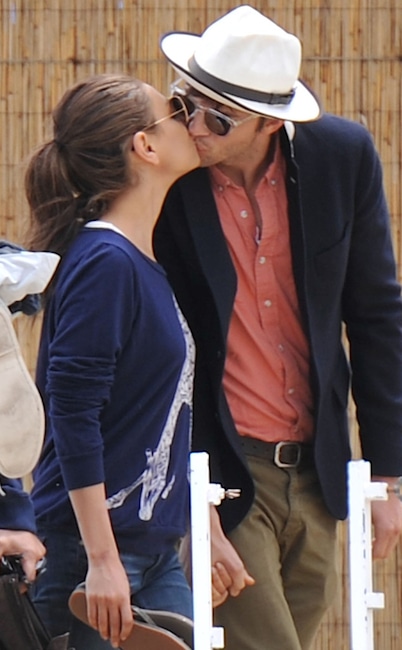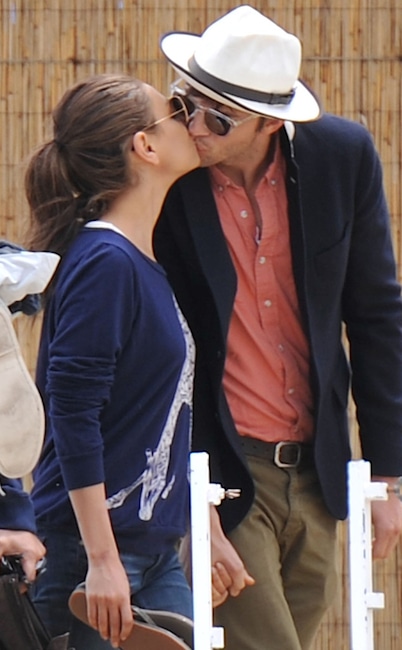 ELIOT PRESS/Bauer-Griffin
Smooches in Saint Tropez

The lovebirds shared a kiss during their walk on the beach in France.
Don't miss E! News every weeknight at 7, only on E!