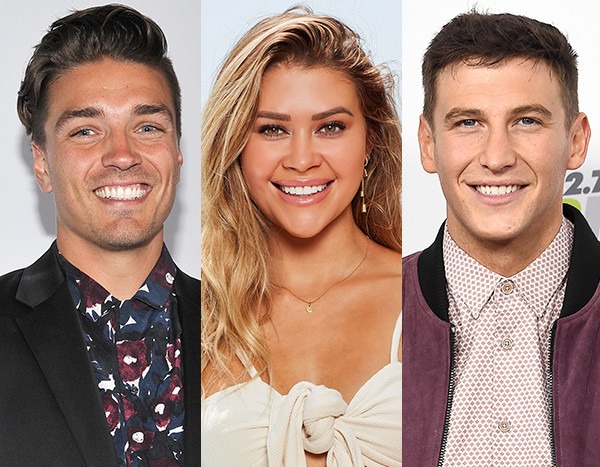 When it comes to the drama between Caelynn Miller-Keys and Blake Horstmann, Dean Unglert has taken a side.
While appearing on the latest episode of iHeartRadio's Almost Famous podcast with Ben Higgins, the Bachelor in Paradise contestant didn't waste anytime in discussing this season's drama.
From the start, Dean voiced his disappointment at Blake for sharing private text messages.
"I got a big issue with the text messages. I respect what he did at first…I appreciate him apologizing for something he may not be proud of and taking ownership of that," he explained. "What really crossed the line for me was he took private messages between him and another girl who didn't consent to him releasing these messages and blasted them publicly to his followers which gets picked up to the news outlets."
Dean continued, "Publishing and publicizing private text messages without consent from the other person as a public figure is one of the most disgraceful things you can do. I think it's almost equivalent to sharing someone's nudes."
When Ben pushed back and asked for more clarification on the comparison, Dean tried to explain.
"You never enter into a text conversation with anyone ever expecting them to screenshot and advertise them. The same way you would never send nudes," he shared. "I would never expect anyone to blast those out anywhere. It's a private conversation."
Dean later when on to say, "The sharing of messages specifically from a girl who you were romantically involved with when she was drunk and horny and you go ahead and blast those text messages on your social is a very obvious form of slut shaming in a sense and that's really what's frustrating."
Earlier this week, Blake took to Instagram to address the first episodes of Bachelor in Paradise. In his post, he admitted to making mistakes and apologized for his actions at Stagecoach.
"I've gotten way in over my head with women and have made a lot of mistakes and although never my intent, I hurt several people along the way," he wrote. "I'm deeply sorry for my actions at Stagecoach but telling the world that I silenced a woman amongst many other harmful accusations was just too much."
Another twist to the whole story is Dean and Caelynn are in fact dating. Just last month, E! News was first to report that the twosome met through mutual Bachelor Nation friends and started DM'ing on Instagram. They were later spotted traveling together in Spain and Italy.
"I'm not defending Caelynn here. She made a lot of mistakes," Dean explained on the Almost Famous podcast. "Judging by what we saw on the show, she comes across in not the best light."
But to share private text messages on social media is something Dean can't support.
"There are a million ways Blake could have gone about sharing his side of the story and the worst way was by sharing those text messages in my opinion. Go to a news outlet, go on a podcast…don't be sharing private text messages just to sway your own guilt and ego and make people you'll never meet in your life like you more," he shared. "The only reason he is doing that is because he wants strangers to like him more. I feel very strongly about this because it frustrates me."
New episodes of Bachelor in Paradise air Monday and Tuesday nights at 8 p.m. only on ABC.
Don't miss E! News every weeknight at 7, only on E!