Story via Olivia Wycech
As the curtain fell on another epic Escapade Music Festival, we left dwelling on what exactly it was that made it monumental. Maybe it was because this kind of thing never happens in Ottawa. Maybe it was because a lineup this big hardly ever comes to Canada at all. Or maybe it was the idyllic (and very rare) weather. Whatever the reason was, tens of thousands of people descended upon Canada's capital city for Escapade Music Festival's 10th-anniversary extravaganza in June and made it an unforgettable weekend in a city that is now deserving of a spot on the international electronic music map. Here's why: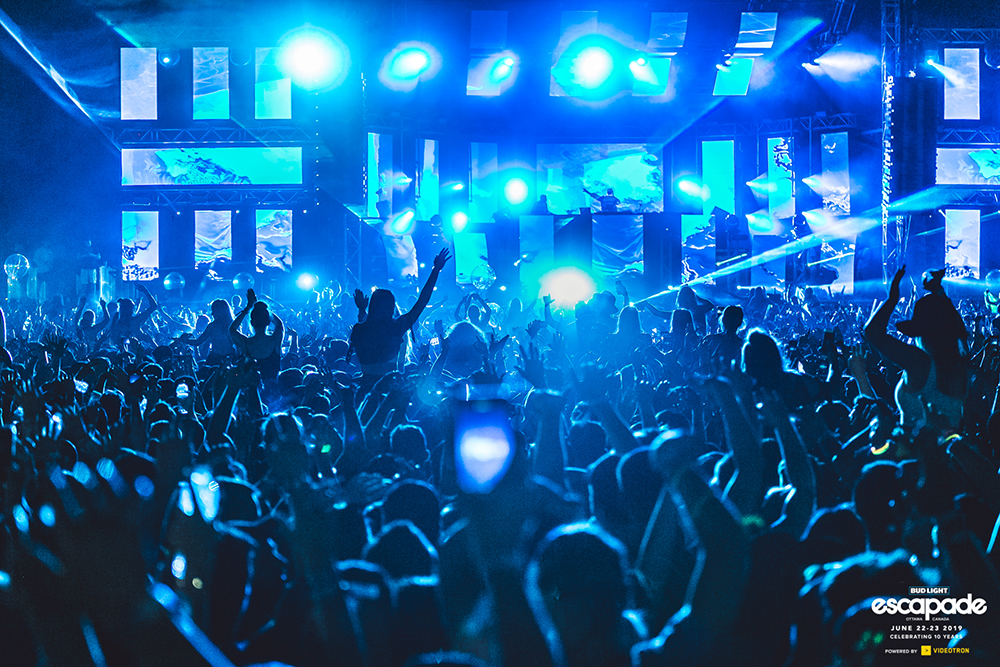 It was the first year the festival sold out
34,000 people flocked to Landsdowne Park this year, and you could feel it from the get-go. We've been to more than a few festivals where people wait to enter for either the sun to set or for the big names to take o take the stage. But not at Escapade – the festival was full almost immediately after the gates opened on both Saturday and Sunday at 1pm. And those who managed to get tickets came from as far afield as Asia, Austalia and the USA. With big crowds come big artists so we're feelin' pretty good about next year.
What? You've never raved on a football field before?
Pictures don't lie. After relocating from a baseball field to a raceway, Escapade Music Festival moved to its new home at Landsdowne Park three years ago. Not only is its location ultra-convenient being smack in the center of downtown Ottawa, but it's also the current home of the Ottawa Redblacks (the play for the CFL, which is Canada's equivalent to the NFL). In its previous two iterations, the field itself only made for a picture-perfect backdrop, but this year the organizers put a stage on the actual field itself. On day one it housed The Temple of Bass with acts like Kayzo, Ghastly and 12th Planet. Day 2 got underway with a Deadbeats takeover featuring 1788-L, Keyz n Krates, and Zeds Dead. Sorry to anyone that lived in the condo overlooking this stage, that shit was loud. Unless you're a bass fan, then kudos because you had the best seats in the house.
Not to be a bore but we need to talk about the weather
For the first time in so many years (so many that we lost count so let's just say forever), it didn't rain. It's every festival's worst nightmare – rain of biblical proportions – and it's happened at Escapade. But as the weekend drew near, it was clear that Escapade was in for two days of sheer sunshine and the skies delivered. Leaving with a bit of a suntan was a bonus!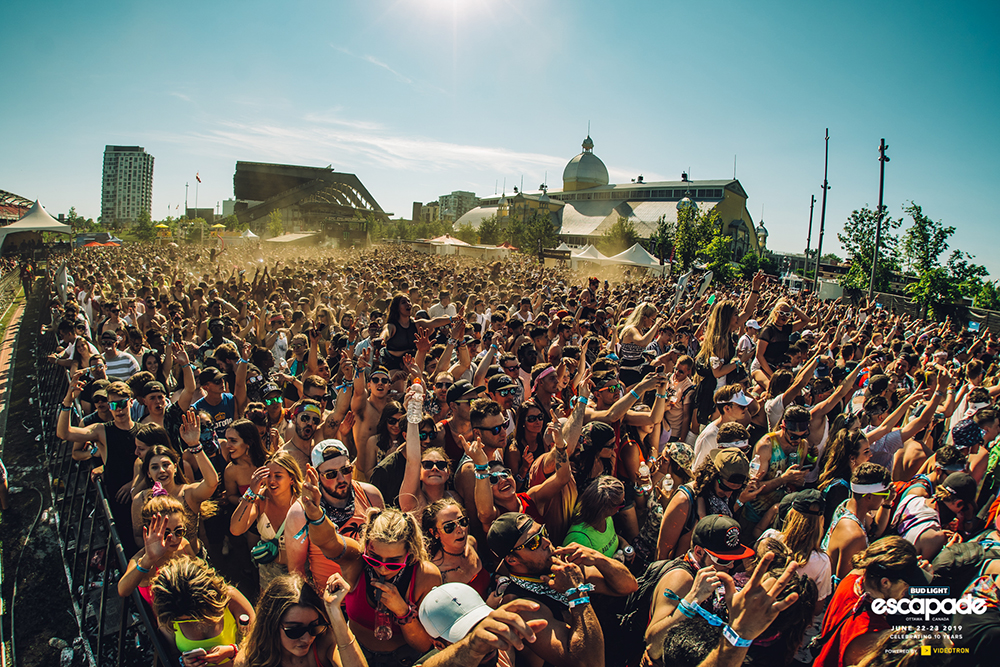 Trance and techno were the perfect finishing touches to the lineup
All hail the headliners of course, but we're spoiled and come to expect them too much. What really made Escapade Music Festival stand out was by booking acts like Tiga, Danny Tenaglia, Chris Lorenzo and Jack Beats, and putting them in the only indoor stage at the festival. The room was akin to an airplane hangar, and after the sun went down, it perfectly evoked that warehouse rave vibe that we desperately crave at a festival. On Sunday, some of the biggest names in trance took over with Aly & Fila, Markus Schulz, and Ferry Corsten capping it all up.
Peak moments were all the buzzworthy b2bs
It's probably because they're rare or unplanned, but something about the energy emitted from a b2b is inimitable and hair raising. We're crowning ZedsDead and Jauz kings of the b2b at Escapade Music Festival, with Tiga and Danny Tenaglia coming in a close second. Bass Jackers also performed together with Breathe Carolina and Tchami played alongside Malaa. Chris Lorenzo made an appearance with Jack Beats as did Felix Cartal with Frank Walker. What did we learn? Book as many b2bs as you can and you've got yourself a fuckin' party.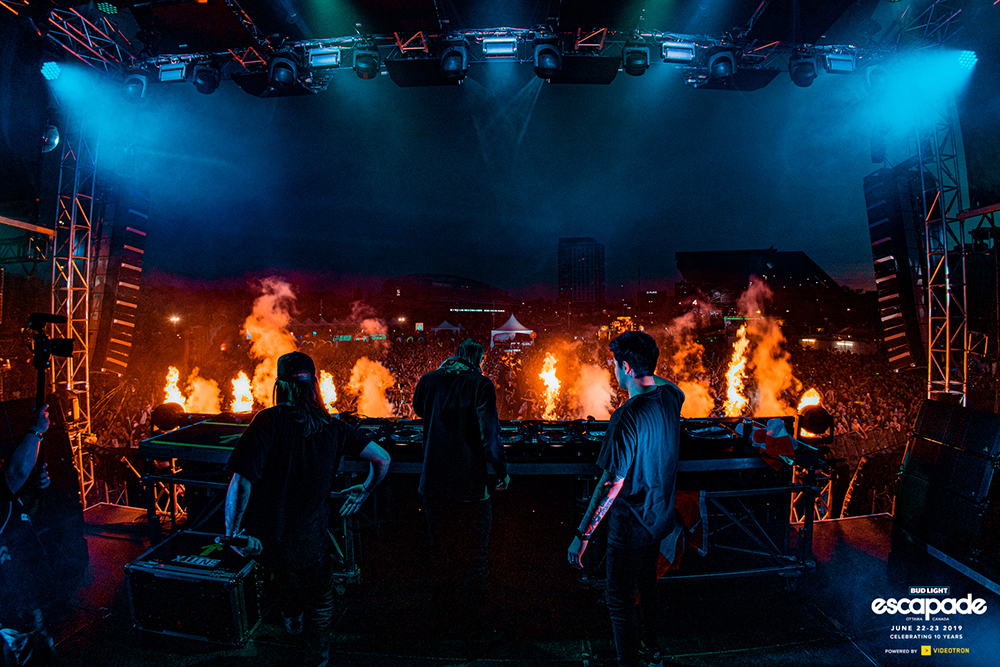 Afterparties in Ottawa? On a Sunday? Unheard of…
Until now.
Saturday night is one thing but we've never seen Ottawa go so late for a full weekend. Lineups snaked down the street outside of official afterparty clubs for much of the weekend for what we feel like was the first time ever. We barely managed to get in to see Ferry Corsten and Markus Schulz, but we finally did and were rewarded with a sweatbox style afterparty and danced till the sun was almost up (that's how you're supposed to do it, duh). Escapade Festival arguably transformed Ottawa into the party capital of Canada for one weekend only, and we're okay with that.
The post-festival blues have already sunk in but Escapade Festival returns in 2020 for round 11 up north. Watch this space for updates.
Images courtesy of Red Agency