Uganda has passed one of the world's harshest anti-LGBTQ+ laws in order to punish what the country's president calls "disorientated" members of the community who try to "recruit" others.
Yoweri Museveni also said LGBTQ+ people who "violently grab some children" and then "rape them and so on and so forth" will face the death penalty.
The president of Uganda made the remarks as he defended the law which sparked outrage across the world after it was passed on Monday.
More than 340 Ugandan MPs voted to pass the law. Only one voted against.
LGBTQ+ people living in the country told Sky News they already felt unsafe before the new law was passed.
US President Joe Biden and others have threatened to cut aid to Uganda and impose other sanctions in response to the new legislation.
The version of the bill signed by Mr Museveni this week doesn't criminalize those who identify as LGBTQ+, which had been a key concern for some rights campaigners, who condemned an earlier draft of the legislation.
However, homosexual acts were already illegal in Uganda. Under the new law, anyone convicted faces life behind bars.
The new law also states some people will now face the death penalty if they break its rules.
So-called "serial offenders" – defined by the legislation as those who transmit a terminal illness like HIV/AIDS through gay sex, and those who have same-sex relations with a person with a disability – now face execution.
The law also imposes a 20-year prison sentence for "promoting" homosexuality.
Firms, including media and non-governmental organisations that knowingly promote LGBTQ+ activity, will also incur harsh fines, the law says.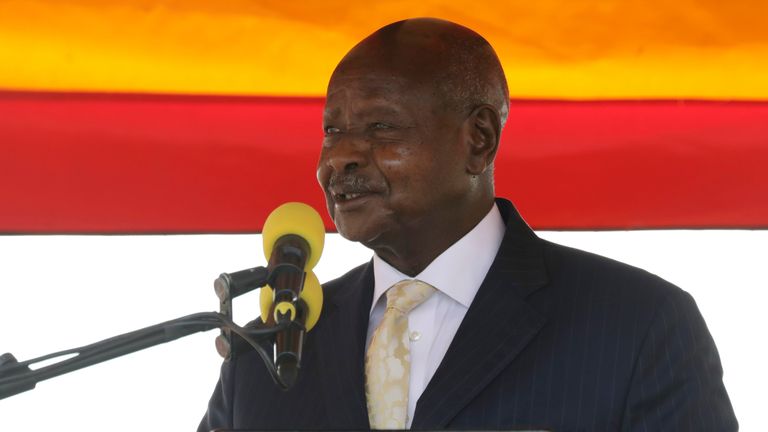 Speaking to politicians from his National Resistance Movement party, Mr Museveni said: "The signing is finished, nobody will move us."
The Ugandan leader also told his party's politicians that he had consulted widely to try and determine whether homosexuality was genetic before signing the law.
He added that he had been persuaded – by what he called expert advice – that it was not, and described it instead as "psychological disorientation".
"The problem is that, yes, you are disoriented. You have got a problem to yourself.
"Now, don't try to recruit others. If you try to recruit people into a disorientation, then we go for you. We punish you," he said.
"But secondly, if you violently grab some children and you rape them and so on and so forth, we kill you.
"And that one I totally support, and I will support."
Read more world news:
Ex-SAS soldier loses war crimes case in Australia
Kim Jong Un's sister vows NK will launch spy satellite
Click to subscribe to the Sky News Daily wherever you get your podcasts
LGBTQ+ people have already faced ostracism and harassment by security forces under existing laws in the conservative and highly religious East African country.
Jay Mulucha, a transgender man in Uganda who is executive director of Fem Alliance Uganda, told the Sky News Daily podcast he doesn't feel safe in his country.
He said: "We have always been discriminated against. We have always been tortured, we have always been denied access to different services.
"We have been thrown out of schools, we have been denied access to health service provision, we have been sent away from our homes, our families have denied us, we have been sent away from jobs. We can't get jobs because of who we are.
"We are not safe at all, I'm scared."