The first images of Alec Baldwin on the set of Rust have emerged since the movie resumed filming following the fatal shooting of cinematographer Halyna Hutchins.
Baldwin is seen reprising his role as the main character after the involuntary manslaughter charge against him following the death of Ms Hutchins was formally dismissed.
The images, shared exclusively with Sky News, show Baldwin in costume for the western movie which has resumed filming almost a year and a half after the cinematographer was shot dead on set in New Mexico.
Baldwin is seen reading from a sheet of paper on the set which has been moved to Paradise Valley in Montana.
A second wider image shows him with a large group of crew members on the set.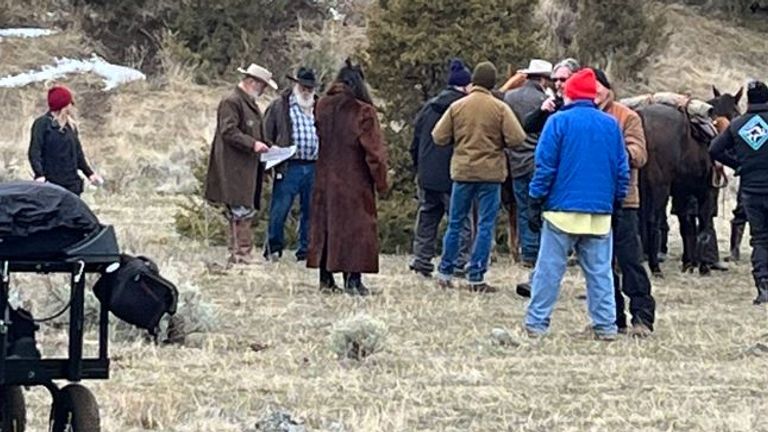 The Yellowstone Film Ranch has a western town backlot with 28 different buildings including a saloon, stable and jail, fitting for a story about a 13-year-old boy who goes on the run with a notorious outlaw.
But this time there will be no ammunition allowed on set, with the production's lawyer pointedly stating that no live rounds were allowed last time, either.
Ms Hutchins, 42, died on 21 October 2021 during filming at the Bonanza Creek Ranch near Santa Fe.
Baldwin was rehearsing with a pistol for a scene when the prop gun went off, killing Ms Hutchins and wounding director Joel Souza.
The actor said the gun went off accidentally and he did not pull the trigger.
Mr Souza remains the director of the film and said after filming resumed: "Though bittersweet, I am grateful that a brilliant and dedicated new production team is joining former cast and crew to complete what Halyna and I started.
My every effort on this film will be devoted to honoring Halyna's legacy and making her proud. The beauty of Montana surpasses words, and the warm hospitality and kindness extended by everyone I've met has been both humbling and inspiring. It is a privilege to work alongside such great partners as we see this through on Halyna's behalf."
The involuntary manslaughter charge against Baldwin has been dropped after special prosecutors said "new facts were revealed that demand further investigation and forensic analysis".
Filming resumes on Alec Baldwin's Rust

Gloria Allred, who is representing Ms Hutchins' family, said in a statement after the charge was dropped: "Mr Baldwin should know that we remain committed to fighting and winning for our clients and holding him accountable for pointing a loaded gun at Halyna Hutchins, pulling the trigger, and killing her.
"Mr Baldwin may pretend that he is not responsible for pulling the trigger and ejecting a live bullet which ended Halyna's life.
"He can run to Montana and pretend that he is just an actor in a wild west movie but, in real life, he cannot escape from the fact that he had a major role in a tragedy which had real life consequences for Halyna, her mother, father, sister, and co-worker."
Hannah Gutierrez-Reed, the weapons supervisor on the film, is still facing an involuntary manslaughter charge.
An online status hearing was scheduled for Friday afternoon in state District Court in the case against Gutierrez-Reed.
Baldwin's involvement in the hearing was called off with no charge pending against him.