Humza Yousaf is expected to be declared Scotland's new first minister later today.
The 37-year-old has replaced Nicola Sturgeon as SNP leader, triumphing over Kate Forbes and Ash Regan in the contest for the party's top job.
Mr Humza is now set to face a vote at Holyrood before being formally confirmed as the country's sixth first minister.
After winning the SNP leadership race on Monday, Mr Yousaf said if he is elected as first minister there will be "no empty promises or easy soundbites".
He said: "I will work every minute of every day to earn and re-earn your respect and your trust. I will do that by treating you, the people of Scotland, with respect."
How will Scotland's new first minister be appointed?
Any MSP from any party can be nominated for the vote, which is due to take place in the afternoon.
Following brief speeches, MSPs will then vote for their preferred candidate.
Voting could take place over a number of rounds as the winning candidate must receive more votes than their rivals combined.
The new first minister is expected to be announced by the end of the day.
The presiding officer will then submit their name to the King, with the new leader of Scotland expected to be formally sworn in at the Court of Session in Edinburgh on Wednesday.
In the unlikely event of the Scottish parliament not being able to elect a leader within 28 days, an election will be held.
Mr Yousaf's win is a big victory for the SNP establishment

'Bruising' leadership contest
Mr Yousaf is the first Muslim to lead a major UK party.
Following Ms Sturgeon's shock resignation last month, the leadership contest featured rows over religious beliefs, arguments about the recollection of past events, and widespread criticism of secrecy surrounding the vote.
The contest also led to a number of other resignations, including that of Ms Sturgeon's husband Peter Murrell as SNP chief executive.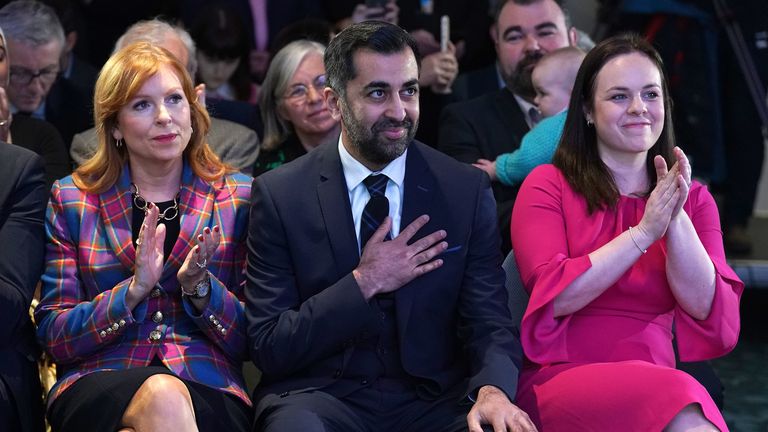 The leadership election was decided by the single transferrable vote system with 50,490 of the SNP's 72,169 members casting a ballot.
After Ms Regan was eliminated in the first round, Mr Yousaf defeated Ms Forbes by 52% to 48% in the second round, with the health secretary receiving 26,032 votes and the finance secretary 23,890.
Read more:
The life, political path and controversies of the new SNP leader
Five challenges Scotland's new first minister faces
Yousaf's leadership win is big victory for SNP establishment
Click to subscribe to the Sky News Daily wherever you get your podcasts
Speaking after the result was announced at Murrayfield Stadium in Edinburgh, Mr Yousaf pledged to work to unite the SNP after a "bruising" leadership contest.
He said his "immediate priority" would be dealing with the cost of living crisis, as well working to "recover and reform our NHS and other vital public services".
He also pledged to "move quickly" on campaign pledges made to extend childcare, improve rural housing and provide greater support to small businesses.
And he stressed he was "determined" to secure independence for Scotland, saying: "The people of Scotland need independence now more than ever before, and we will be the generation that delivers independence for Scotland."