Nadhim Zahawi has been sacked as Tory party chairman after an ethics inquiry into the handling of his tax affairs found a "serious breach" of the ministerial code.
Prime Minister Rishi Sunak had resisted earlier calls from opposition parties to fire Mr Zahawi following reports that he had paid a penalty as part of an estimated £4.8m settlement dispute with HMRC.
He had instead asked his new ethics adviser – Sir Laurie Magnus – to assess whether the settlement amounted to a breach of the ministerial code.
Zahawi sacked as Tory party chairman – follow reaction live
In a letter written to the PM following the conclusion of his investigation, Sir Laurie said Mr Zahawi had "shown insufficient regard for the general principles of the ministerial code" and had not fulfilled the requirements of being an "honest, open and an exemplary leader".
Following Sir Laurie's findings, the PM wrote to Mr Zahawi, saying it was "clear that there has been a serious breach of the ministerial code" and announcing his sacking as Tory chairman.
The Liberal Democrats have now called for Mr Zahawi to step down from his role as an MP after saying he is "unfit to serve the people of Stratford-on-Avon".
But in a letter to Mr Sunak following his sacking – in which he made no apology for his actions – Mr Zahawi told the PM he can be "assured of my support from the backbenches in the coming years".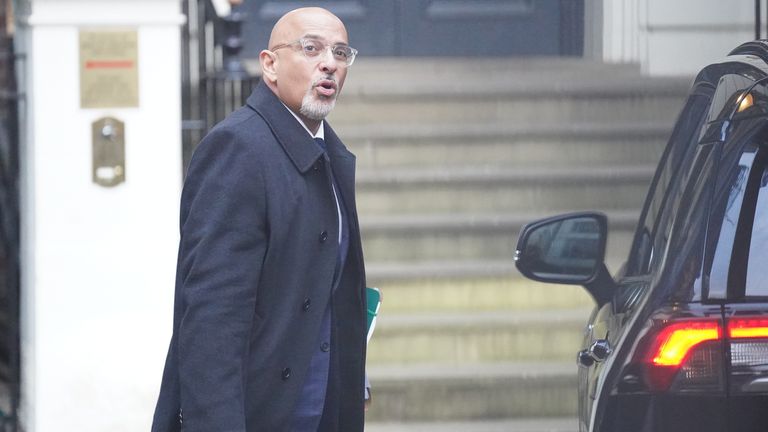 He added that he was concerned "about the conduct from some of the fourth estate in recent weeks", in a reference to the media.
Mr Zahawi said: "It has been, after being blessed with my loving family, the privilege of my life to serve in successive governments and make what I believe to have been a tangible difference to the country I love."
He added: "I am sorry to my family for the toll this has taken on them."
Read more:
Tories were irritated by Zahawi tax row – now optics are even worse
Seven findings from the PM's Zahawi investigation
The child refugee turned millionaire politician
What's going on with Zahawi's taxes?

The controversy over Zahawi's tax affairs
The row surrounding Mr Zahawi had centered on a tax bill over the sale of shares in YouGov – the polling firm he founded worth an estimated £27m – which were held by Balshore Investments, a company registered offshore in Gibraltar and linked to Mr Zahawi's family.
Mr Zahawi had insisted he was "confident" he had "acted properly throughout".
He said he paid what HMRC said "was due" after it "disagreed about the exact allocation" of shares in YouGov.
He added that the error had been found to be "careless, not deliberate" but did not disclose the size of the settlement or whether he paid a fine.
Following his investigation, Sir Laurie said "omissions" by Mr Zahawi regarding his tax affairs "constitute a serious failure to meet the standards set out in the ministerial code".
Subscribe to Sophy Ridge on Sunday on Apple podcasts, Google podcasts, Spotify, Spreaker
In the four-page report to Mr Sunak, dated 29 January, the ethics adviser says:
• Mr Zahawi had a "delay in correcting an untrue public statement" made in July 2022 – in which he told Sky News reports of an investigation were "inaccurate, unfair and clearly smears"
• Mr Zahawi's contact with HMRC began in April 2021 but he did not declare it
• He failed to declare the ongoing HMRC investigation when appointed as education secretary in October 2021
• He still did not mention the probe when appointed as chancellor in July 2022
• Mr Zahawi reached an in-principle settlement with HMRC in August 2022 – with a settlement in September 2022 along with a penalty – which was not disclosed until January 2023
• He again did not disclose the investigation when appointed Chancellor of the Duchy of Lancaster by former prime minister Liz Truss in September – or when made Tory party chairman by Mr Sunak in October
• Mr Zahawi "should have understood" that HMRC was investigating "a serious matter"
• The cabinet office "was not in a position to inform the appointing prime minister" about Mr Zahawi's tax affairs as he failed to disclose the relevant information to the department
• Mr Zahawi's conduct "has fallen below the high standards" that a PM should expect from ministers
• The Tory chairman showed "insufficient regard" for the ministerial code
PM 'needed a backbone' over Zahawi tax issue

PM branded 'too weak'
Labour's party chairman Anneliese Dodds criticised Mr Sunak's handling of the situation, saying he "didn't need an investigation to deal with this matter, he needed a backbone".
"We knew about these allegations for a very long period of time," she told Sky News.
"The prime minister, he vacillated, he wobbled, he couldn't decide what to do – even after it had become clear that while he was chancellor, Mr Zahawi had been the person in charge of HMRC while he was actually negotiating with HMRC."
Read more:
From Zahawi sacking to seatbelt gaffe – scandals in PM's first months
Will the curse of the cabinet awayday spark doom for Sunak?
Ms Dodds said the public "rightly expect far better of their government and Rishi Sunak has let people down on this".
"He is just too weak to put the interests of our country first rather than, it seems, the interests of his internal party management," she added.
PM took 'decisive action' following Zahawi report

However Levelling Up Secretary Michael Gove said Mr Sunak had taken "decisive action" following the publication of Sir Laurie's report.
It is understood that the PM is unlikely to appoint a new Conservative chairman by the end of Sunday.