Donald Trump's Facebook and Instagram accounts will be reinstated after a two-year suspension following the 6 January insurrection.
Facebook parent Meta said in a blog post on Wednesday it would be adding "new guardrails" to ensure there are no "repeat offenders" who violate its rules.
"In the event that Mr Trump posts further violating content, the content will be removed and he will be suspended for between one month and two years, depending on the severity of the violation," Meta, which is based in Menlo Park, California, said.
Nick Clegg, Meta's president of global affairs, said Mr Trump is now free to use Facebook and Instagram again "if he wishes to", adding that the "guardrails" are there to "ensure he plays by the rules".
Mr Clegg, the former deputy British prime minister, added: "We're trying to strike a balance between keeping people safe on our platform, making sure that our services are not used to threaten real would harm, but at the same time we think the American people should hear from those who want to lead them, and we don't want to stand in the way of that."
Responding to Meta's decision, the former US president said: "FACEBOOK, which has lost billions of dollars in value since 'deplatforming' your favourite president, me, has just announced that they are reinstating my account.
"Such a thing should never again happen to a sitting president, or anybody else who is not deserving of retribution!"
He added: "THANK YOU TO TRUTH SOCIAL FOR DOING SUCH AN INCREDIBLE JOB. YOUR GROWTH IS OUTSTANDING, AND FUTURE UNLIMITED!!!"
Mr Trump was suspended on 7 January, a day after the deadly 2021 insurrection.
The suspension sparked other social media companies to make similar moves.
But he was recently reinstated on Twitter after Elon Musk took over the company, despite not yet tweeting on the platform.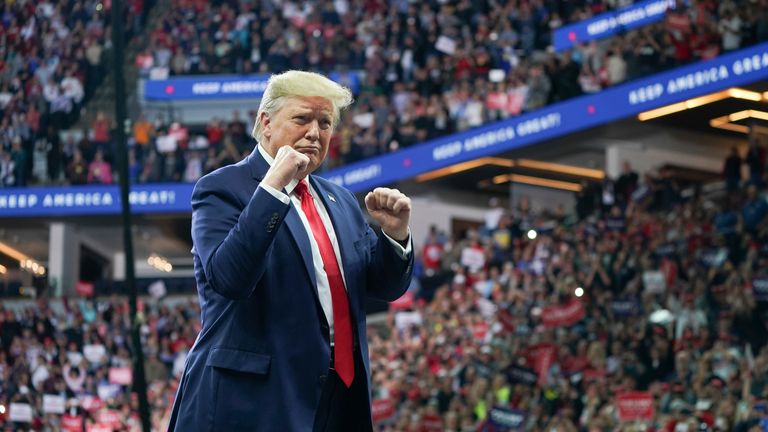 Read more:
Donald Trump and lawyer fined nearly $1m for 'bogus' legal claim against Hillary Clinton
Donald Trump's company fined $1.6m after top bosses dodged taxes
Donald Trump proposed using a nuclear weapon against North Korea and blaming it on another country, book claims
Mr Trump has been using his own, much smaller site, Truth Social, which he launched after being banned from Twitter.
Earlier this month, a confidante of the former president revealed that Mr Trump might start tweeting again soon.
Advisers for his 2024 presidential campaign have been workshopping ideas for what his first post should be, according to NBC News.
A Republican, who spoke on condition of anonymity to discuss private conversations with Mr Trump about returning to the platform, said: "Trump is probably coming back to Twitter. It's just a question of how and when.
"He's been talking about it for weeks, but Trump speaks for Trump, so it's anyone's guess what he'll do or say or when."