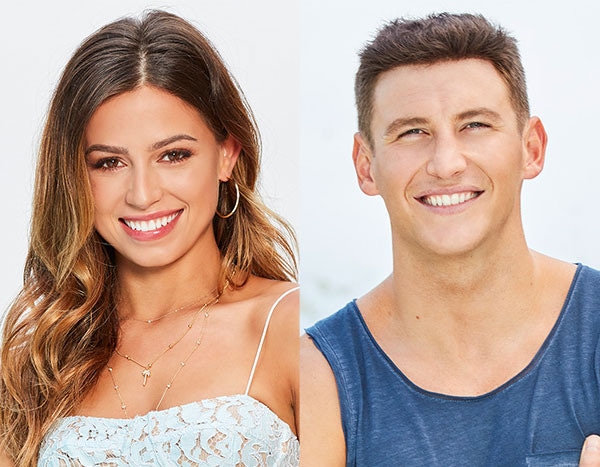 Well, fans didn't see this one coming.
Kristina Schulman shocked viewers on Monday's episode of Bachelor in Paradise by giving her rose to Blake Horstmann. While the episode aired, the season six star took to Twitter to explain her controversial choice. 
"I have a big heart what can I say?" she tweeted. "EVERYONE DESERVES LOVE." 
Schulman was aware she threw viewers for a loop. 
"In baseball, curveball is my favorite," she tweeted.
Still, she stood by her decision.
"Ultimately, I care about people," she wrote. "Blake and I have been friends for the past year, yes I give him s–t and he's very well aware but he came on the show to find love & I believed he deserved to stay."
However, some fans argued she should have given her rose to Wills Reid, who was eliminated. After a commenter claimed "Wills deserved love more than Blake," Schulman argued, "It doesn't have to be one more than the other."
Even Reid weighed in on the topic. After Schulman asked why Oneyka Ehie left the show without giving her rose to another contestant—such as Reid—he replied, "Difference is Oneyka didn't directly speak with me and say she'd be interested in seeing if there was anything more directly before the rose ceremony." However, Schulman was quick to defend herself. 
"If you haven't noticed, I'm a direct person, so I would have said how it is. And that I didn't say," she tweeted.
Fans also watched Schulman share her reasoning for keeping Horstmann on the show during Monday's episode.
"I think people were surprised with my decision tonight. Sure, I want Blake to stick around and find love—that's what you're here for. But then, Blake would have to watch Hannah [Godwin] and Dylan [Barbour] together," she said, referencing Godwin's decision to pursue a relationship with Barbour after also forming a romantic connection with Horstmann. "He accepted my rose. In a way, he's choosing to stay in his personal hell….Yeah, it's kind of mean, but it's Blake we're talking about. The temptation is too good." 
To see what happens next, fans can tune into tonight's episode of Bachelor in Paradise on ABC.