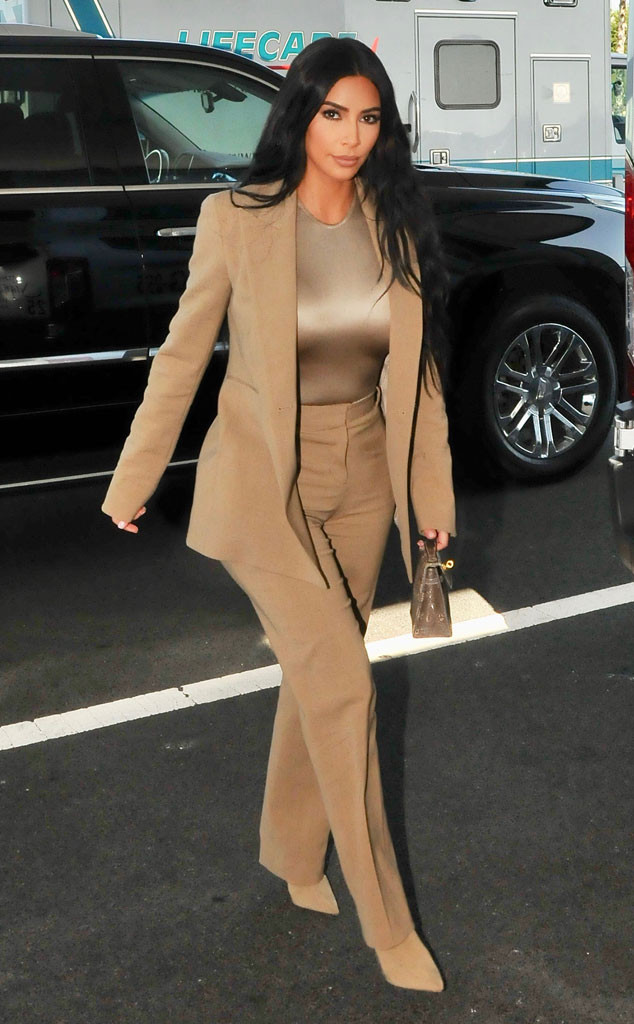 Todd / SplashNews.com
Is it too late to pitch a new season of Kim Kardashian Takes Washington D.C.? 
The E! reality TV star concluded her latest visit to the nation's capital by spending time at the White House on Thursday. Sporting a flashy gold bodysuit tucked into a monochromatic tan suit and matching booties, Kim was spotted arriving at 1600 Pennsylvania Ave. with daughter North West and her grandmother MJ Campbell, who just celebrated her 85th birthday. 
TMZ reports Kim and the rest of her famous fam were treated to a private tour of President Donald Trump's private residence, and the outlet suggests she also took a meeting with the Commander-in-Chief to discuss her continued prison reform advocacy efforts. Earlier this week, the 38-year-old met with inmates at the District of Columbia Correctional Treatment Facility as part of her upcoming Oxygen documentary Kim Kardashian: The Justice Project. 
The two-hour special, which does not yet have a premiere date, will follow Kim as she attempts to right the wrongs of the criminal justice system. 
Following Wednesday's visit to the D.C. Jail, Kim tweeted out her support for the Georgetown Prison Scholars Program, a joint initiative between Georgetown University and the correctional treatment facility to offer educational courses and lecture series to inmates. 
It's possible Kim also met with Trump about rapper A$AP Rocky's incarceration in Sweden. She and husband Kanye West have lobbied the White House to intervene in the artist's ongoing legal drama, and earlier today Rocky was officially charged with assault by Swedish prosecutors. 
"Give A$AP Rocky his FREEDOM," Trump tweeted on Thursday. "We do so much for Sweden but it doesn't seem to work the other way around. Sweden should focus on its real crime problem! #FreeRocky."
Keeping Up With the Kardashians returns fall 2019, only on E!