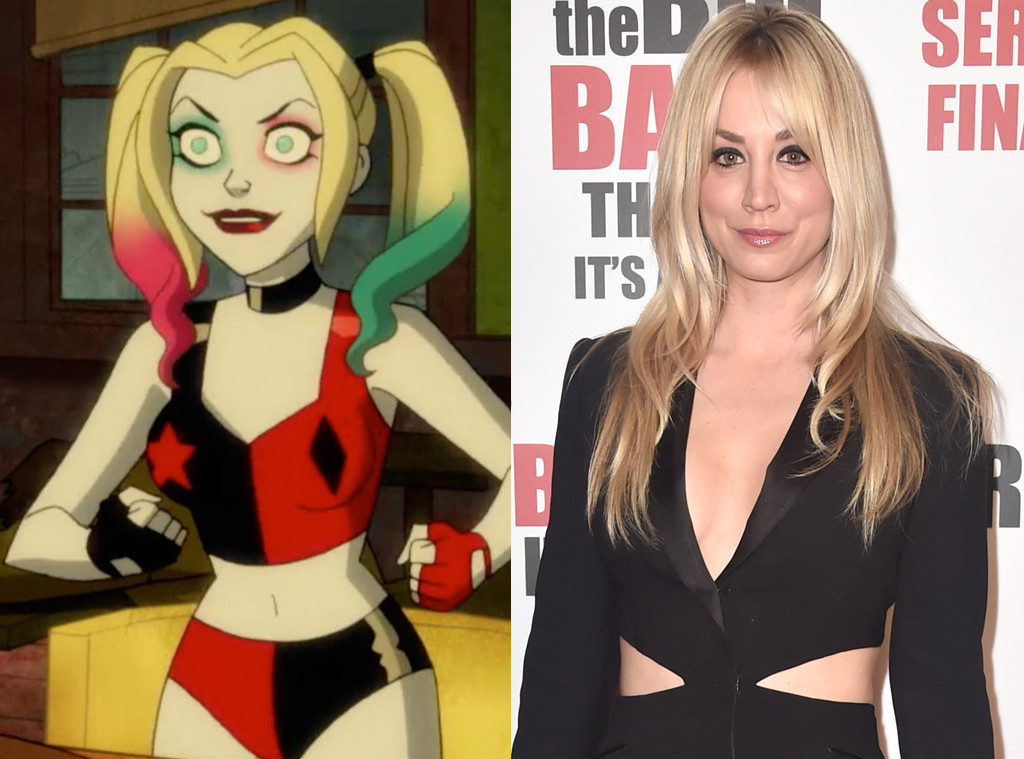 DC Universe; Getty Images
Kaley Cuoco's moving about as far away from Penny as she can get. 
The Big Bang Theory star is now the voice of Harley Quinn in DC Universe's animated series of the same name, and she's using language Big Bang's girl next door would never be caught saying (on camera, at least). 
The series, which Kuoco also produces, and which also stars Diedrich Bader, Ron Funches, Alan Tudyk, Lake Bell, JB Smoove, Chris Meloni, Tony Hale, Jason Alexander, Wanda Sykes, Jim Rash, Rahul Kohli, Tisha Campbell-Martin, Giancarlo Esposito, Natalie Morales, Sanaa Lathan, and even more than that, follows Harley's adventures after her break up with the Joker (Tudyk), and hangs out with Poison Ivy (Bell) as she joins the Legion of Doom, and it's very much an adult show, in every way imaginable. 
At a panel for the show at the 2019 TV Critics' Association press tour on Tuesday, Kuoco says she got the call from Warner Bros chief executive Peter Roth while she was still filming The Big Bang Theory, and he asked her if she'd like to be Harley Quinn.
"I said, 'F–k yeah I do!' and he was like, 'That's the right answer,'" Kuoco recalled. 
She was excited to play such an "iconic character," especially on a show that's a little different and a little edgier than what's been done before. 
"Harley's iconic. She's a badass. She is female empowerment to a T," Cuoco said. "Leaving this guy, leaving the Joker and falling back in, it's like a real relationship. This stuff happens in real life. I think she's just a badass, and she always has been, and she always will be, and she dances to the beat of her own drum." 
After the panel, to a smaller group of reporters, Cuoco said that the language of the new show is "very freeing" after 12 years of sitcom language restrictions. 
"I f–king love it," she said. "I have a little bit of a potty mouth myself, and it's been great to be able to just scream and cuss and fight and be the badass that Harley Quinn is." 
It does, however, make it a little harder to go back to regular life. 
"I leave and I'm like, oh my god, you need to calm down, you are not Harley Quinn when you're out getting a coffee, just calm down." 
The sort of irony of "Penny" playing an iconic comic book character is not lost on Kuoco, and she knows exactly what Sheldon and Leonard would think of this gig.
"Oh, I think they would think it was the hottest thing in the world," she says. "They wish there was an episode written about this at this point, but I think this is in their wet dreams for sure." 
After 12 seasons on a comic book-focused show, Kuoco says this move "felt natural," especially since she was still filming Big Bang while doing the recording sessions for this show, and she already sort of had a built-in fandom for comic book content. 
"We've created our own audience for this for the last 12 years, so they've already been supportive of these sort of decisions and these sort of characters, and it's believable that I would be part of it, so I think kind of the stage has been set." 
Kuoco knows she has a fairly recognizable voice, so while she felt like she'd be accepted taking on the character by the "true Harley fans," she also wanted to make sure it didn't just sound exactly like Kaley Cuoco voicing a character, so they settled on a specific version of Kuoco's voice. 
"I knew people would know my voice right away, and I was like, I'm not going to try and be something that I'm not, so it's gonna be my voice on crack," she says. 
As for saying goodbye to Big Bang, Kuoco says it hasn't exactly hit her yet, since it's still summer and they'd be on a filming break anyway. 
"It kind of still feels normal, but I think in a few months when I'm supposed to go back to the show, it'll hit me probably a little bit more, like, oh, this is a new life now. Things will be a little bit different." 
Cuoco will next star in The Flight Attendant, another project that she's also producing for the streaming service HBO Max, about a flight attendant who wakes up in Dubai with a dead body next to her and no memory of what happened. So it's safe to say she's really moving on from Penny Hofstadter. 
Harley Quinn will premiere this fall on DC Universe.